Was this bloodbath in Tahrir Square Frank Wisner's Plan B, @PJCrowley ? or didn't he have a Plan B? #
Operation Sarkozy : how the CIA placed one of its agents at the presidency of the French Republic
The forces unleashed in Egypt can't be turned back
The manoeuvres at the top of the regime have transparently been choreographed in Washington. Mubarak's declaration on Tuesday night followed hard on the heels of a visit from the Obama administration's envoy, Frank Wisner, a paid lobbyist of the Egyptian government, who was reported to have "urged" the Egyptian president not to stand again.
CIA: Frank G. Wisner arrived in Cairo
Frank G. Wisner Jr. is not known to the U.S. public either as a diplomat or as a master spy, but as an unscrupulous financier. He was part of the Enron power elite involved in the fraudulent bankrupcy of the corporation that ruined countless small investors and, later, as Vice Chairman of American International Group whose share prices plummeted by 95% during the 2008 financial crisis before its bailout with taxpayers' money.
From the Guardian:
11.31pm GMT: Frank Wisner, the US special envoy sent by Obama to talk to Egypt's government, is on his way back to the US, empty-handed it would appear. AP reports:
The White House had attempted to nudge Mubarak to the exits, dispatching former US Ambassador Frank Wisner as a special envoy to deliver the message to him. But by Wednesday, Wisner was on his way back to the United States.

A senior US official, speaking on condition of anonymity due to the delicacy of the matter, suggested Wisner had been seeking specific pledges from Mubarak beyond just a promise not to stand for re-election. The official would not elaborate, but the administration has made no secret of the fact that it wants the state of emergency lifted and would prefer to see Mubarak's son, Gamal, not try to succeed his father. Mubarak mentioned neither in his address Tuesday night.
Who is US Special Representative to Kosovo Frank G. Wisner?
The Power Elite: Enron and Frank Wisner
Wisner is a veteran of "economic espionage" and is believed to have used his diplomatic cover to advance US governmental and corporate economic interests while he served as a diplomat to Asia. A member of Wisner's staff told InterPress Services in 1997 that "if anybody asked the CIA to help promote US business in India, it was probably Frank".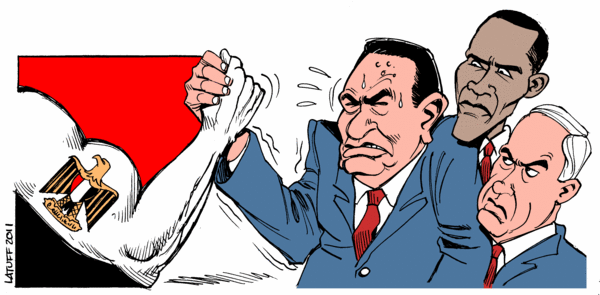 Egypt Links
Israeli leaders' brotherly allegiance to fascism RT @db_s_turbosnail: Voice of Israel urging Mubarak to crack heads: http://bit.ly/fNjWRM #
#Jan25 Live ammunition confiscated from the police by protesters
Into Egypt's Uncharted Territory
NDP Mubarak thugs who confessed that they were paid to go out and hurt anti-Mubarak protesters
ADC Finally Jumps on Egypt Bandwagon
Leading Egyptian Facebook Activist Arrested, Friends Say
Revolution in Egypt – and the Hypocrisy of the US and the West
Hillary Clinton gets tough with "military dictatorships"
I understand if they expect a domestic audience to swoon for this sort of rhetoric, but do they actually expect that there is anyone in the Middle East, anywhere, who will take seriously the righteous objections of Hilary Clinton — the American Secretary of State and close Mubarak family friend — to the rise of an oppressive military dictatorship in the Middle East? Is anyone there really going to believe that it's that government's lack of respect for human rights — rather than its refusal to serve American interests and heed its various dictates — that is motivating the hostility and threats?
All of a sudden, we each began receiving text messages from Vodafone and calls for protests to end before things got out of control.
The Neocons Split with Israel Over Egypt
Amid protests at home, Egypt mobilizes strong lobbying force in Washington

Egypt protests – live updates
What lay behind Obama's friendship with Mubarak?
Erdogan is Brilliant
Egypt: much too early to celebrate
Google, Facebook, Twitter sound off on Egypt
RT @ArabRevolution: @VodafoneEgypt actively supporting Mubarak regime. SMS sent to Egyptians http://yfrog.com/gzhf7fvj BOYCOTT @VodafoneUK #
RT @jeremyscahill URGENT Cairo #journalists reporters GET OUT of your HOTEL ROOMS NOW http://bit.ly/gFRvZg #Jan25 RT NOW @chrislhayes #
@PJCrowley The perpetrators of today's violence in #Egypt must be held accountable, and the government should tell its supporters to eschew violence. #
. @PJCrowley Take careful note 'Pro-Mubarak supporters are recognizably police, says Peter Beaumont. ' http://tinyurl.com/4a8urur #
. @PJCrowley Some of the attackers caught. Their IDs showed them to be policemen dressed in civilians clothes.' http://tinyurl.com/4nuvurn #
. @PJCrowley RT @alaa: Further proof there is police among the thugs, they're now shooting tear gas #Jan25 #
Protestor consoles Egyptian army officer
Palestine / Israel Links
UN joins PA slamming Israeli water infrastructure destruction
More detentions in Ramallah at rally for Egypt
When Israel's protective net of tyranny tears
Journalists forced to pledge abstention from Gaza rallies
Tunisian PM: Gaza source of inspiration
Wikileaks Links
Other Links
Sudanese Start Protest Movement
Passenger: Feds Orchestrated "Underwear Bomber" Plot to Advance TSA