Today's post preserves two nauseating vignettes, of crimes against humanity by Zionist and Amerikkkan flunkeys, with hearts frozen against those whom they palpably regard as less than human, less deserving of consideration provided to their own elites.
The first is Anas Saleh, a "20-year old Gaza resident, who died on 1 January 2011 from a liver disease in Shifa Hospital in Gaza".
Although the patient was in a critical medical condition, which was known to the Israeli authorities, Israel prevented his exit from Gaza for lifesaving medical treatment. Adalah Attorney Fatmeh El-Ajou filed the complaint on behalf of the victim whose case was followed and documented by PHR-I and Al Mezan.

The human rights organizations argue in the complaint that the denial of an exit permit in these circumstances is an act against the legal obligation to provide medical treatment to save the life of the patient, an act which brought about, or at least hastened, the death of the deceased.

The aforementioned act, or failure, raises the suspicion of manslaughter (section 298 of the penal law, 1977), and/or causing death by negligence (sections 304 and 309 (4) of the penal law, 1977) and responsibility for helpless person and violation of obligation of perant or of responsible person (sections 322 and 337 of the penal law).

In September 2010, Anas Saleh was diagnosed with a liver disease, Budd Chiari Syndrome (a clinical syndrome resulting from obstruction of the veins in the liver). Due to a lack of appropriate medical treatment in the Gaza Strip health system, his condition deteriorated into acute liver failure and hepatitis.

The patient was referred for lifesaving medical treatment to Muqassed Hospital in East Jerusalem, and a hospital referral and appointment were in his possession for 26 December 2010. On 13 December 2010 the family presented a request, via the Palestinian Liaison Office, to the Israeli authorities in order to obtain an exit permit from Gaza.

Thirteen days later, on 26 December 2010, the patient's hospital appointment date, the army informed the Palestinian Liaison Office that the patient must appear for interrogation by the Israel Security Agency (ISA or Shabak) on 30 December 2010 to further consider his request. However, on that date the patient was already unconscious, in a comatose state, and could not appear at the interrogation.

This information was forwarded, according to the Palestinian health coordinator, to the Israeli military on that same day, with a request to speed up the request procedure and to issue an exit permit from Gaza urgently.

Paradoxically, despite the ISA continued to insist that the patient appear for questioning. According to the father's testimony, on 28 December 2010 he received a telephone call from a man who introduced himself as an ISA representative, and requested that his ill son present himself for questioning on the following day. The father informed him that his son was in a coma and asked that he be allowed to leave for medical treatment without delay.

Throughout this process, medical documents substantiating the patient's medical condition were transmitted to the Israeli authorities. A final medical document confirming the patient's critical condition was sent on 29 December 2010.

The patient died in Shifa Hospital in Gaza 1 January 2011 at 18:00 (6 pm). Until today, no response to the request has been issued by the Israeli authorities.
UPDATE
Border guards bar infant from Jerusalem for medical treatment
Israeli soldiers deployed at the Zaytoun checkpoint east of Jerusalem turned away a mother and child with a medical permit to enter the city, on the grounds that the 18-month-old child was not her legitimate son.

Soldiers told Umm Mohammed that her son Mohammad Kahlil Abu Dahuk was in fact a Gaza resident, and could not enter Jerusalem for treatment at the Makassed Hospital, where he was referred for blood work.

Umm Mohammed is a West Bank resident living in Jericho, where her infant son was being treated for a blood disorder at the Jericho Government Hospital.

The Abu Dahud family told Ma'an on Thursday, shortly after the mother and child were refused access to the hospital, that they were refused entry for no reason. Mohammed, his mother said, was registered on her own identity card, being to young to receive his own.

"He has been on the records since he was born," his father said, condemning the border guards who turned his wife away.

Head of Jericho hospital Naser A'nani confirmed that he had referred the child to the hospital and filed the necessary paperwork for a medical permit to be issued. He said the child needed to see a specialist, and referred him to the larger hospital in Jerusalem.

A spokesman for the Israeli border guards, who operate the checkpoint, said he would look into the claim in the coming days.
Israel has prevented many Palestinians from receiving needed medical treatment. In 2010, Israel denied travel for medical purposes to 635 Gazan people, and delayed travel for a further 1,710 people. The Al Mezan Center for Human Rights report below is essential reading to understand the horrifying extent of the inhumanity of zionists toward Palestinians, whom they consider untermenschen.
Al Mezan: Gaza Patients Ac… by paola pisi
The other unfortunate person is Gulet Mohamed, an 18-year-old American citizen whose family is Somalian. Glenn Greenwald relates that whilst abroad for education and holidays, Gulet was snatched, imprisoned then tortured by Kuwaiti officials.
At all times, Mohamed traveled on an American passport and had valid visas for all the countries he visited. He has never been arrested nor — until two weeks ago — was he ever involved with law enforcement in any way, including the entire time he lived in the U.S.

Approximately two weeks ago (on December 20), Mohamed went to the airport in Kuwait to have his visa renewed, as he had done every three months without incident for the last year. This time, however, he was told by the visa officer that his name had been marked in the computer, and after waiting five hours, he was taken into a room and interrogated by officials who refused to identify themselves. They then handcuffed and blindfolded him and drove him to some other locale. That was the start of a two-week-long, still ongoing nightmare during which he was imprisoned for a week in an unknown location by unknown captors, relentlessly interrogated, and severely beaten and threatened with even worse forms of torture.

…
Mohamed says he was repeatedly beaten with a stick on the bottom of his feet and his palms, hit in the face, and hung from the ceiling. He also says his captors threatened him with both the arrest of his mother and electric shock, and told him that he should forget his family.

He still does not know why he was detained and beaten, nor does he know what is happening to him now. Indeed, although Mazzetti writes that he was detained and beaten by Kuwait captors, Mohamed actually has no idea who was responsible, and told me that at least some of the people interrogating him spoke English. He has been told that he will be deported back to the U.S., but is now on a no-fly list and has no idea when he will be released. American officials told Mazzetti that "Mr. Mohamed is on a no-fly list and, for now at least, cannot return to the United States." He's been charged with no crime and presented with no evidence of any wrongdoing.
…
Independent of all that, the U.S. Government has an obligation to protect its own citizens. Mohamed described to me how both embassy officials and the FBI expressed zero interest in the torture to which he had been subjected during his detention. The U.S. Government has said nothing about this matter, and refused to comment about Mohamed's treatment to The New York Times.

All of this underscores the rapidly expanding powers the U.S. Government and law enforcement agents within the country are seizing without a shred of due process. For the government to put an American citizen on the no-fly list while he's traveling outside the U.S. is tantamount to barring him from entering his own country — a draconian punishment, involuntary exile, meted out without any due process. In June, the ACLU filed a lawsuit on behalf of several citizens and legal residents who — like Gulet Mohammed — have been literally stranded abroad and barred from returning with no hearing, simply by being placed secretly on the no-fly list. Add to that the growing seizures of the laptops and other electronic equipment of American citizens re-entering the country without any warrants — or even yesterday's ruling from the California Supreme Court that police officers can search and seize someone's cell phone without a warrant when arresting them — and (even leaving aside the administration's ongoing due-process-free prison camps and assassination programs) these are pure police state tactics.
Amerikkka and Israel are marching to hell together behind a familiar, sickening beat. Let's decide not to follow their lead. Stand up and speak out for justice and freedom and reject totalitarianism in its new, frightening, morally depraved forms.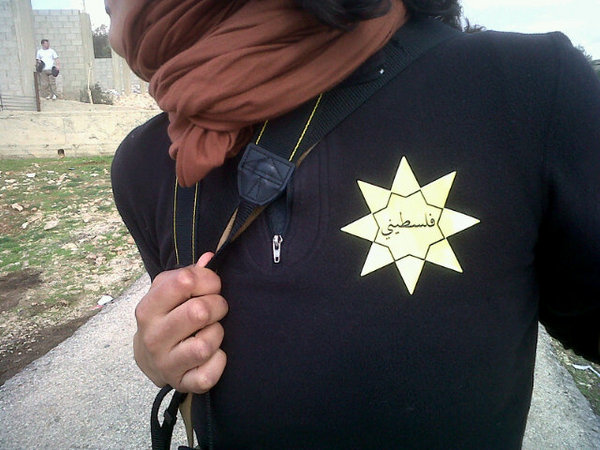 Palestine / Israel Links
Outgoing Mossad chief, Dagan : Iran won't have nuclear capability before 2015 "The Israeli intelligence community's assessments of Iran's nuclear capability have changed during Dagan's tenure. In 2003, Israeli intelligence officials thought Iran would have its first bomb by 2007. In 2007, they thought it would be 2009, and a year later they put it at 2011. Now the date has moved to 2015. These adjustments were not the result of mistaken evaluations, but due to the difficulties Iran has encountered in advancing its program, largely because of the Mossad's efforts." Yeah, right – hence the plethora of assassinations in Iran of nuclear scientists by Mossad killers.
Amr Qawasme, 65, shot to death for unknown reason as soldiers raid house in Hebron area. 'They put their hand to my mouth and a rifle to my head,' man's wife says. 'I asked them, 'What did you do?' They asked me to shut up.'
The culture of the Israeli army and the murder of an elderly man in his sleep
Israelis admit killing innocent civilian in bed
End Georgia's relationship with the Israeli police – stop human rights abuses now! get involved [.pdf]
In Ajami and Mas'ha, Evidence of the Continuing Nakba
Doing the work of the master, the last person who cares about equal rights : Mubarak asks Israel to build trust with Palestinians
Former Knesset speaker urges Israeli human rights groups to shun Knesset probe
Declaring Palestine: Revisiting Hope and Failure : Ramzy Baroud
Zionist settlers are blackshirts : Jericho teacher says settler car attempted to run down students
Palestinians look for early vote on UN resolution
After lobby effort PA releases 6 Hamas affiliates
More ziofascism : Israeli court releases J'lem official Adnan Ghaith on bail from secret charges
Amira Hass: Gaza on the edge of no return
Shas: Ahuva Tomer to blame for bus disaster
Video: Our Story By Dr. Mustafa Barghouti
Palestinians and another deadline… that is not sacred?
Forward: Israeli army doctors warned in '03 that CS gas in high concentrations could kill
Aiding Israel: Love thy neighbour
Get a clue, Baroness Ashton, "peace process" is code for more Israeli expansionism. Time for a justice process.
EU Rejects Israel's Offer On Gaza Blockade
Israel slates 15 Jericho homes for demolition
When the Messiah comes, Israel will deport him
Israel's killing zone in Gaza
Marching in bilin to the wall
Israeli 'hasbara' deployed versus former EU leaders
Fact-Checking Noah Pollak and the IDF's Unofficial Spokespeople
Subhiya, mother of Jawaher Abu Rahmah who was killed last week, leading the memorial demo in Bil'in
On the wall now in bilin. Mass demonstration
Massive amount of people. Israeli mk getting coated with shit water in bilin
Massive gas in bilin. Injuries as well
Peer's non-appearance a win for BDS campaign
#OperationPalestine: It's Not Too Much To Act
'Our politics are entangled' – Today, at 80, Samuel Lewis, former U.S. envoy to Israel, says he worries about Israel's current state of affairs but assures that 'Israel is here to stay.' What the hell is a 'Jewish brain'?
Yossi Gurvitz's photos from the Bil'in demo
Israel Soldier Beats Up Civilian & Shooting in Direct Formation
Wikileaks Links
WikiLeaks: Secret whaling deal plotted by US and Japan
Hollywood on aggressive Asia-Pacific IP law push
Bradley Manning: the forgotten man : Glenn Greenwald [Audio]
Douglas Feith, named by General Tommy Franks as "the stupidest fucking guy on the planet" is amongst the Bush Six, against whom criminal proceedings are being prepared by Spain for torture.
12 Angry Men – great poster of Bush's legal thugs
Other Links
Erdogan renders military holding's lobbying efforts ineffective
EU needs Turkey more than Turkey needs it, says Ba???
U.S. Employs Afghan War To Build Global NATO
Afghans consign another superpower to the dustbin of history
Getting things done
Opium Production in Afghanistan: Strong and Corrupt as Ever