Michael C. Moynihan at the rightwing libertarian Reason magazine suggests Wikileaks has been infiltrated by Israel Shamir aka Jöran Jermas, Adam Ermash, Adam Shlessing, Izrail Schmerler, Vassili Krasevsky, Jorge Gold and Robert David, inveterate anti-semite, and son Johannes Wahlström, 'himself accused of anti-Semitism and falsifying quotes'. Moynihan already pinpointed Shamir for spreading disinformation about the CIA orchestrating sex crime allegations against Julian Assange.
Strip away the caginess and the obfuscation—remember, no one is allowed secrets but WikiLeaks – and Hrafnsson, who took over spokesman duties when Assange was jailed last week, confirms that WikiLeaks chose Shamir to work with their Russian media partners. After its investigation, the Swedish Radio program Medierna concluded flatly that "Israel Shamir represents WikiLeaks in Russia."
Moynihan, senior editor at Reason, gained notoriety himself from involvement in 'the protest movement "Everybody Draw Mohammed Day" which began in May 2010. The movement grew in response to censorship by Comedy Central of an episode of South Park which depicted the Prophet Muhammad'.
For verification of the Wikileaks/Shamir story, I've trawled through Moynihan's source material.
According to Magnus Ljunggren, Professor Emeritus of Russian Literature at the University of Gothenburg [TR]
In an extensive commentary, jointly signed by the editor and Shamir and bearing the title "How the world will explode in the air of a great Wikileaks', explained that the latter has exclusive access to Assanges documentation – in the same way, therefore, that the son in Sweden.
Ljunggren continues, saying that a photo of Shamir with Assange prompted
Yulia Latynina, based in Anna Politkovskaya of Novaya Gazeta to go out on the radio station Echo Moskvy with the question: What does it mean that Assange let themselves be represented by an extremist? She said that Shamir also offered their materials to the newspaper Kommersant, but met with a cold shoulder, for it would not take him with pliers.

Her conclusion was that it is a shame that Wikileaks documents in other countries were analyzed by experienced journalists, but in Russia by a total incompetent and deceitful Jew hater.
Karin Olsson notes on her blog at Expressen:
Expressen Kultur's article today has P1's media put out Saturday's program in advance. There Wikileaks spokesperson confirms that Israel Shamir is working for them and that they know of his anti-Semitic background. De har också en intervju där Israel Shamir förnekar sitt faderskap till Wahlström. Hör inslaget här. They also have an interview with Israel Shamir denies his paternity of Wahlstrom.
On Swedish Radio:
It is Wikileaks spokesman Kristinn Hrafnsson confirming the media Israel Shamir involvement with Wikileaks – but would not accept that there would be no problem for the organization.
Moynihan, who has lived in Sweden, annotates the radio interview:
Wahlström and Shamir, father and son, are the WikiLeaks representatives for two rather large geographic areas. According to Swedish Radio's investigation, Wahlström is the gatekeeper of the cables in Scandinavia, and "has the power to decide" which newspapers are provided access and what leaks they are allowed to see. (At the time of filing, Wahlström had yet to respond to an email request for comment.)

In Russia, the magazine Russian Reporter says that it has "privileged access" to the material through Shamir, who told a Moscow newspaper that he was "accredited" to work on behalf of WikiLeaks in Russia. But Shamir has a rather large credibility problem, so Swedish Radio put the question directly to WikiLeaks spokesman Kristinn Hrafnsson.

Swedish Radio: Israel Shamir…Are you aware of him? Do you know him?

Kristinn Hrafnsson, Wikileaks spokesman: Yes. Yes, he is associated with us.

SR: So what is his role?
Hrafnsson: Well, I mean, we have a lot of journalists that are working with us all around the world. And they have different roles in working on this project. I won't go into specifics into what each and everybody's role is.

SR: Are you aware of how controversial Israel Shamir is in an international context?

Hrafnsson: There are a lot of controversial people around the world that are associated with us. I don't really see the point of the question.

SR: Are you aware of the allegations that he is an anti-Semite?

Hrafnsson: I have heard those allegations…yes, yes. [Pause] What is the question really there?

SR: The question is, do you that that would [sic] be a problem?

Hrafnsson: No, I'm not going to comment on that.
The Moscow Times investigates the Russian Reporter's association with Shamir:
Shpak refuted criticism that Russian Reporter, which belongs to the Kremlin-friendly Expert publishing group, was withholding material damning to the authorities.

"You can read allegations arguing the exact opposite — that we just publish damning material — in the patriotic press," he said by phone.

The magazine has cooperated with Israel Shamir, a Russian-born Israeli journalist, on WikiLeaks.

But Shpak denied that Shamir alone was responsible for the magazine's access to WikiLeaks.

Shamir said by phone that he was a freelancer who was "accredited" to WikiLeaks. "This means I have working relations with them but does not mean going to the banya together," he said.

He also denied allegations that one of the cables quoted by Russian Reporter was forged.

Writing in The Moscow Times earlier this week, liberal journalist Yulia Latynina said the magazine had made up quotes from a report about EU diplomats' instructions before a speech by Iranian President Mahmoud Ahmadinejad.

"The cable is real, it has just not been published yet," Shamir said.
RFE/RL (Radio Free Europe/Radio Liberty (RFE/RL) is funded by the U.S. Congress) says:
According to the magazine "Russky Reporter," for example, the famous walkout by Western diplomats during Iranian President Mahmud Ahmadinejad's speech to the United Nations in September 2009 was not spontaneous and had in fact been planned by Washington.

The magazine, citing WikiLeaks documents, claimed in a December 2 article that U.S. officials gave detailed instructions to EU representatives on when to leave the room during Ahmadinejad's speech. The claim, if substantiated, could be deeply embarrassing to the United States.

But unlike other media reporting on the WikiLeaks revelations, "Russky Reporter" provided no documents to back up its allegations. An extensive search of the WikiLeaks database fails to yield relevant U.S. cables, causing some analysts to suggest the magazine might be exploiting WikiLeaks to propagate false information.

"The problem is that what should be backed by the cables does not actually appear in the published cables," says Yulia Latynina, one of several Russian journalists to have voiced doubts over the credibility of "Russky Reporter," which claims to have a privileged relationship with WikiLeaks. "This allegation is left hanging in the air, to put it mildly."

WikiLeaks did not respond to repeated requests for comment about the existence of the cables and its relationship with "Russky Reporter."

…

"Russky Reporter" claims to be one of the few media outlets that were given early access to WikiLeaks' quarter-million U.S. cables.

Only four media organizations, however, are known to be collaborating directly with WikiLeaks: "The Guardian" in Britain, "Le Monde" in France, "El Pais" in Spain, and "Der Spiegel" in Germany.

"The Guardian" has shared the material with "The New York Times" and the five newspapers have been advising WikiLeaks on which documents to release, what redactions to make, and when to publish.

Unlike "Russky Reporter," these newspapers have carried stories relating exclusively to cables that have been simultaneously released by WikiLeaks and coordinated with the publication in question.

In an interview with RFE/RL's Russian Service, Leibin says that his magazine's collaboration with WikiLeaks is slightly different.

"To be accurate, we're not cooperating in the same way as 'The Guardian' or 'The New York Times.' Their staff journalists worked together with WikiLeaks activists going through this vast database to find things they were interested in publishing," Leibin says. "In our case, a freelance journalist worked for us: Israel Shamir, who has been an activist with WikiLeaks. It simply turned out that we knew an activist from WikiLeaks."

Shamir could not be reached for comment.

In an apparent attempt to dispel any doubt about its ties with the secret-leaking website, the magazine has posted a photo of Shamir standing next to WikiLeaks founder Julian Assange on its website.
The Russian Reporter article containing the photo of Shamir and Assange is penned by Israel Shamir and Vitaly Leibin.
That the materials were able to reach interested readers, the publication will be implemented in concert with the leading magazines of the world, the main partner in Russia – "Russian Reporter".

…

Head and founder of Wikileaks Julian Assange fled from persecution in northern Europe. Next to him is now a journalist Israel Shamir , thanks to his work "Russian reporter" gets preliminary materials before they become public.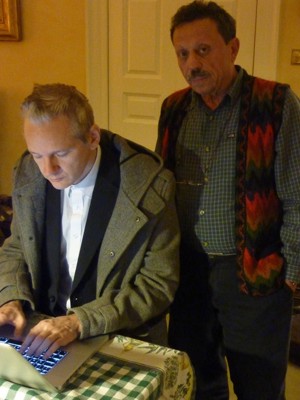 Is this photo bona fide? there's no exif information. The shadow on Shamir ends before it crosses the red on his right side. The edge of the shadow cast by Assange on Shamir's clothing is very sharp compared with the shadow on Assange's clothing. There's some odd pixelation on the right side of Assange's face.
Is Wikileaks and in particular Julian Assange aware of Shamir and son's dubious affiliations? what is Shamir hoping to gain through his involvement in Wikileaks? is RFE/RL running a counter campaign?
UPDATE MARCH 2011
WikiLeaks statement that was given to, but not used by, the UK satirical current-affairs magazine, Private Eye:
Israel Shamir has never worked or volunteered for WikiLeaks, in any manner, whatsoever. He has never written for WikiLeaks or any associated organization, under any name and we have no plan that he do so. He is not an 'agent' of WikiLeaks. He has never been an employee of WikiLeaks and has never received monies from WikiLeaks or given monies to WikiLeaks or any related organization or individual. However, he has worked for the BBC, Haaretz, and many other reputable organizations.

It is false that Shamir is 'an Assange intimate'. He interviewed Assange (on behalf of Russian media), as have many journalists. He took a photo at that time and has only met with WikiLeaks staff (including Asssange) twice. It is false that 'he was trusted with selecting the 250,000 US State Department cables for the Russian media' or that he has had access to such at any time.

Shamir was able to search through a limited portion of the cables with a view to writing articles for a range of Russian media. The media that subsequently employed him did so of their own accord and with no intervention or instruction by WikiLeaks.

We do not have editorial control over the of hundreds of journalists and publications based on our materials and it would be wrong for us to seek to do so. We do not approve or endorse the the writings of the world's media. We disagree with many of the approaches taken in analyzing our material.

Index did contact WikiLeaks as have many people and organisations do for a variety of reasons. The quote used here is not complete. WikiLeaks also asked Index for further information on this subject. Most of these rumors had not, and have not, been properly corroborated. WikiLeaks therefore asked Index to let us know if they had received any further information on the subject. This would have helped WikiLeaks conduct further inquiries. We did not at the time, and never have, received any response.
Shamir Links
Israel Shamir and Julian Assange's cult of machismo
On Anna Ardin, Israel Shamir and glass houses
Russian Reporter – How exactly Wikileaks will blow the world
Medierna – Confirmed for the media: notorious anti-Semite working on Wikileaks
Karin Olsson Blog – Wikileaks messenger – Wahlstrom and Shamir – must be reviewed
Daddy's Boy?
THE ISRAEL SHAMIR CASE
Israel Shamir exposed! A fake or a plant?
E-mail: SERIOUS CONCERNS ABOUT ISRAEL SHAMIR
Lord Ahmed's unwelcome guest
Putin Bristles Over Leaked U.S. Cables
Critics Allege Russian Magazine Is Misrepresenting WikiLeaks Cables
Israeli writer is Swedish anti-Semite
WikiFakes watch: Russia
Israel Shamir: Wolf in Sheep's Clothing
WikiLeaks employs Israeli-Swedish Holocaust-denier
Opinion: WikiLeaks and its anti-Semitic spokesmen
Victims, jilted lovers or undercover agents
Head of the Belarusian President's Administration Uladzimri Makei had a meeting with Israel Shamir, representative of WikiLeaks website's founder.
Telling Shamir quote? "For a smear that really sticks, you need to get it from an ex-apostle. An accusation by a Caiaphas does not impress. If you are targeting a leftist, hire leftists."
Today's Wikilinks
Uncle Sam vs Wikileaks – game
WIKILEAKS – UK
XKCD Wikilinks comic (don't miss the ALT text)
A Bayesian Take on Julian Assange

Most Americans critical of WikiLeaks dump: poll
Don't let the evidence get in the way of a good conspiracy theory
Spamhaus' False Allegations Against wikileaks.info
Julian Assange's bail challenged in high court by Sweden
Today's Australian Wikilinks
Link to Wikileaks cables at The Age – 'The Age believes it is acting in the public interest by publishing both news reports on these matters and selected cables on which those reports are based.' Good 🙂
The Age Australian Wikileaks cables
Reader riposte: WikiLeaks
Secrets And Leaks
WikiLeaks exposes the two faces of America
Out of the war: policies for an Australian contribution to a sustainable peace in Afghanistan
WIKILEAKS founder Julian Assange may not have broken the law by publishing leaked diplomatic cables, Treasurer Wayne Swan has conceded.
Today's Palestine / Israel Links
'We'll Wipe Israel Off the Map' and Other Things Ahmadinejad Never Said
Danny Ayalon Plays a Losing Blame Game
The Press Release ADC Never Issued About FBI Raids
Instead of befriending neo-fascists, Israel should make peace
Hussein Ibish And The Good Old Days
BDS hits the Sydney suburbs
Other Links
Scientists Figure Out How to Erase Pathological Fear
Australian Coastlines after global warming