For many demented US politicians and media shills, Wikileaks is the US equivalent to Salman Rushdie's fatwahed Satanic Verses. While the Wikileaks insurance file with its encrypted archive of unredacted documents has been downloaded by hundreds of thousands of Wikileaks supporters during the last week, it seems the US has only just realised the implications. One tweet containing the password, and the entire archive can be unencrypted for public viewing – this is insurance against a US coverup of its criminality, not a means of protecting Julian Assange, who is resigned to the consequences of his public stance. Assange has stated the reason for Wikileaks' existence is for there to be no need for a Wikileaks. The 'invisible government', the obscene hidden oligathical conspiracy and exceptionalism must end and all governments be accountable to international law and their electors. The US State Dept representative, Philip J. Crowley tweets his smear only today:
@PJCrowley: Julian #Assange comes clean as opportunist, threatens to put others at risk to save his own hide. #
Assange's lawyer, Mark Stephens warns:
that if Mr. Assange were to be brought to trial on rape accusations he faces in Sweden, or for treason charges that have been suggested by U.S. politicians, he would release the encryption key. The tens of thousands of people who have downloaded the file would instantly have access to the names, addresses and details contained in the file.
Against a backdrop of impunity and exceptionalism, the issue of repellent doctrines of pre-emption and full spectrum global dominance adopted during the venal Bush years, and consequent massacres of millions of brown-skinned innocents far from those who fund and vote them, the hypocritical imperial crocodiles are concerned about the impact of the release of unredacted documents it will create by its own hand.
Nor will Assange's detainment or the closure of his defence fund prevent the upload of further documents. The Wikileaks site is now mirrored at 507 sites and its wikileaks.ch domain is safe in the hands of the Pirate Party and protected by the Swiss courts – and the revolution WILL be tweeted. Even the superpower cannot withstand a tide of discontent from a mushrooming global movement insisting on the right to publish in the public interest as a check on elite corruption and deceit.
The US is particularly irascible about the publication of critical sites which it regards as critical around the world. Yet as the Wikileaks site points out, those sites were available to around 2.5 million people – hardly guarded knowledge. Australian sites of interest include
Australia: Southern Cross undersea cable landing, Brookvale, Australia Southern Cross undersea cable landing, Sydney, Australia Manganese – Battery grade, natural; battery grade, synthetic; chemical grade; ferro; metallurgical grade Nickel Mines Maybe Faulding Mulgrave Victoria, Australia: Manufacturing facility for Midazolam injection. Mayne Pharma (fill/finish), Melbourne, Australia: Sole suppliers of Crotalid Polyvalent Antivenin (CroFab).
What is of most concern is the methodology the US used to glean this knowledge.
WikiLeaks spokesman Kristinn Hrafnsson said:

"The latest release from the Embassy Cables reveals US embassies were asked to gather information on key infrastructure and resources without the knowledge of, or consultation with, their host governments.

"This further undermines claims made by the US government that its embassy officials do not play an intelligence gathering role.

"In terms of security issues, while this cable details the strategic importance of assets across the world, it does not give any information as to their exact locations, security measures, vulnerabilities or any similar factors – though it does reveal the US asked its diplomats to report back on these matters.
The Wikileaks cables have revealed the US has 'blacklisted' 23 Australian nationals in Yemen.
Some of the names have been added to a US list of people banned from boarding commercial flights, with the rest to be monitored by US spy agencies.
Kevin Rudd claims Assange will be treated 'like any other citizen' which means no doubt the supine Australian government would hand him over to its master on demand as it did David Hicks, another occasion when the Australian government's tongue was inserted from US bottom to tonsils. Would the Australian government also OK a US assassination order? There is a list of organisations and people who have criminalised Wikileaks and threatened Assange here.
Wikileaks continues to expose the cloying connubial relationship between government and corporate entities: Jillian C. York notes the hypocrisy of EveryDNS.com which removed Wikileaks DNS service.
@jilliancyork: EveryDNS: "we believe in our New Hampshire state motto, Live Free or Die." http://www.everydns.com/ (block on right side of page) #
York also asks:
"Did Library Of Congress Lie? White House Says No Requirement To Block Wikileaks | Techdirt" ( http://bit.ly/f0AfJI ) #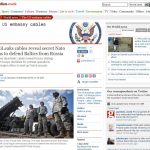 Interestingly, The Guardian, which has been redacting and releasing wikicables alters a headline about NATO's posture toward Russia. The original headline reads 'WikiLeaks cables reveal secret Nato plan for war with Russia Alliance agrees to defend Poland and Baltics if Moscow attacks – while Warsaw fumes over 'potted plant' Patriot batteries" which is replaced by
"WikiLeaks cables reveal secret Nato plans to defend Baltics from Russia
• Leaked diplomatic cables reveal Russia strategy
• British troops identified for combat operations
• Washington offers to beef up Polish security"
Content of the stories also differs. Decide for yourself which is the better interpretation by reading the original redacted cables at the Guardian.
Julia Gillard in a press conference broadcast today by the ABC has claimed Wikileaks cable publications are "grossly irresponsible misconduct", there has been "no advice from the Australian federal police yet" and the cables' "foundation stone is an illegal act". In common with many politicians, she appears to have a low regard for normal journalistic activities.
Opposition Legal Affairs spokesman George Brandis accused Ms Gillard of being "clumsy" with her language on the issue of illegality.

"As far as I can see, he (Assange) hasn't broken any Australian law," he told Sky News.

"Nor does it appear he has broken any American laws."

Senator Brandis, a Queen's Counsel, called for any debate about the publishing of the cables to have a well-defined understanding of the difference between something which appeared to be morally wrong and an act which was illegal.

"As far as I can see, nothing Mr Assange has done does break the law."
Julian Assange is considering a suit against Gillard for defamation.
In a positive move, Columbia University has reversed its fatwah on Wikileaks.
"Freedom of information and expression is a core value of our institution," Coatsworth wrote in an e-mail to the SIPA community Monday morning (full e-mail message below). "Thus, SIPA's position is that students have a right to discuss and debate any information in the public arena that they deem relevant to their studies or to their roles as global citizens, and to do so without fear of adverse consequences."

SIPA Professor Gary Sick, the prominent Middle East expert who served on the National Security Council under Presidents Ford, Carter, and Reagan, went even further in repudiating the memo.

"If anyone is a master's student in international relations and they haven't heard of WikiLeaks and gone looking for the documents that relate to their area of study, then they don't deserve to be a graduate student in international relations," Sick told Wired.com in an interview.
The US state department knew there were more cables to come months ago. The Afghanistan and Iraq material published earlier this year was opaque and acronymed – to work through them required extreme dedication and professionalism. According to Iraq body count, the data will take many months more to work through.
The current cables range from didactic to droll and are much more accessible to a prurient public hot for salacious ruling class peccadillos. The elite apparently don't mind if the bodies they slaughtered are inspected long after, as long as their precious image at embassy cocktail parties isn't tarnished, their complicity in torture coverups uncovered, that their deceptive sabre rattling at Iran isn't exposed as a charade. Even now, despite the glaring evidence, many cling to the delusion that an attack on Iran is imminent.
I wavered as I read Kevin Rudd's presentation to Clinton, knowing full well what I would find – evidence of an increased military buildup to keep pace with China's growing security role in the region which they promised it years ago, though not with the boorish suggestion of matched belligerence. I thought Kevvie did rather well given the limitations and arrogance of the US – they will still run the show through membership of a regional body – yet it makes sense in a cold-hearted financially pragmatic way, since Australia is a quarry for the military juggernaut. China and America build implements of war from our minerals – increased militarisation suits everyone except me, and others like me, which is just about everyone.
After yesterday's frolics, between throwing Leftist Palestinian charters and speeches identifying imperialism as organically related with zionism at anti-semite white supremacists and dealing with a plague of conspiracists who think because Assange said Netanyahu was a sophisticated politician this was a form of praise and evidence of zionist collusion rather than an equation of him with a used car salesman or particularly venomous snake, along with attempting to preserve my own citizenship rights from the craven compliance of the Australian government with empire, noticing little solidarity for this from non-Australians, my messages back to @wikileaks and @wikileaks2 were
Send her down Huey 🙂 RT @wikileaks: Cablegate: Boy, the last time there was a leak like this, Noah built himself a boat. #
Hey there … power on, process A OK, govt still seems to want to commit to ridiculous amounts of arms purchases 🙂 #
For 2 yrs a chain: #netfilter => #openinternet => #opensociety : #wikileaks helps Australians confront censorship then AND now 🙂 thanks! #
Here's my Christmas Wikiwish list:
(1) No, we don't want those F35s (2) Global demilitarisation (3) Equal human rights for all (4) Whatever happened to Al Suri?
One last thought – as with the rightsless Palestinian people, Australian rights and justice go out the window when the US is concerned, The ruling class that disallows justice for Palestinians is the same ruling class that is enabling the persecution of Julian Assange and Wikileaks.
Later
Julian Assange has now been arrested according to the BBC. An op-ed will appear in tomorrow's Australian – here's the beginning of a gist.
'Mr Assange begins by saying: `In 1958, a young Rupert Murdoch, then owner and editor of Adelaide's The News, wrote: `In the race between secrecy and truth, it seems inevitable that truth will always win.''

It goes on to say a few more things about freedom of speech; the `dark days' of corrupt government in Queensland (where Assange was raised); the Fitzgerald inquiry; and it says much about his upbringing in a country town, "where people spoke their minds bluntly.''

It says that Australian politicians are chanting a "provably false chorus'' with the US State Department of "You'll risk lives! You'll endanger troops!'' by releasing information, and "then they say there is nothing of importance in what Wikileaks publishes. It can't be both.''
WikiLinks for Today
Julian Assange WikiLeaks – latest
Defend WikiLeaks or lose free speech
WikiLeaks Shows Intel Blackmailed Russian Govt.
Wikileaks Exposes Iran's Secret Revenge on Iraqi Pilots For 1980s War
Al Jazeera rejects leaked US claims
Wikileaks : The Talking Points
V for Vendetta, A for Assange
CableGate, Copyright Expansionism and Stopping to Think
Campaigners rally to defence as attempts to muzzle site mount
In the flood of US cables, a resurgent Turkey emerges
WikiLeaks: Israel weapons manufacturer listed as site vital to U.S. interests
WikiLeaks winners and losers: Early edition
Cable reveals details about Saddam Hussein's 'hastily run' execution
Kuwaiti IM suggests US release Gtmo detainees back in Afghanistan to be 'killed in combat'
Why is Australia silent on Julian Assange?
Julia Gillard fails to name law broken by Wikileaks or Julian Assange
Police complaint filed after Tom Flanagan calls for assassination of Wikileaks' Julian Assange
Facebook: We're Not Kicking Wikileaks Off Our Site
Israel supporters using Wikileaks to promote attack on Iran are ignoring Arab public opinion
What's the thinking behind Wikileaks?
Indecent Exposure: WikiLeaks Hounded for Showing Power Its True Face
In the eye of the Assange media storm – media storm after Daniel Assange interview
'Critical infrastructure' = hysterical reaction
Facebook: We're Not Kicking Wikileaks Off Our Site
Net closes in on Assange? #wikileaks #cablegate
Aussie web hosts shy away from Wikileaks [despicable]
Not such wicked leaks : Umberto Eco
Open letter: To Julia Gillard, re Julian Assange
Wikileaks : Some thoughts on what is happening and where it might lead
WikiLeaks in the clouds: why attempts to shut down Assange will fail – behind a paywall, with free trial available
Wikileaks and the Long Haul
2010-12-07: Statement by Civil Liberties Australia – strong, well-aimed message
Has Australia Abandoned WikiLeaks' Julian Assange? TIME
So Why is Wikileaks a Good Thing Again?
Cables: US fails to stop Hamas arms flow
Rant from Howard Stern about Wikileaks and government.
"I can see Julian Assange from my house"
Wikileaks support protest in Sydney on Friday
The lawless Wild West attacks WikiLeaks
More Links
Pictures of Palestine from 1868
Researcher says Palestinian detainees were used in Israeli medical experiments
Muslim Publics Divided on Hamas and Hezbollah
The Decline and Fall of the American Empire
A Wildfire Is Burning All Illusions in Israel
U.S. Must Condemn Gaza Border Wall as a Human Rights Violation
Message to Vieux Farka Touré: Colonialism is colonialism, whether it happens in West Africa or Palestine