Lloyds Bank is the target of protests since it has ceased the ability of Interpal to send aid to Gaza. In Bristol, protesters have forced the bank to close its doors. Suspect Paki has the story, and so does Syd Walker, who chronicles protests aimed at the BBC in England and Israelis in New Zealand.
Syd also comments on Obama's rumoured appointment of Israel Firster Dennis Ross to ambassadorship in the Middle East.
To begin to restore America's credibility, Obama and Secretary of State Clinton must appoint a genuine honest broker for negotiations over the Middle East. Someone of independence and integrity. If they prefer to appoint a foreign national, how about Bishop Tutu or Mikhail Gorbachev?

Substituting a Zionist A-Team for the Zionist B-Team is not acceptable, except to Israel. What is acceptable only to Israel is no longer acceptable to the world.
With new evidence of Israel's criminal use of white phosphorus in civilian areas, the Zionist state is contemplating a unilateral cease fire forestalling any negotiations with the democratically elected Hamas government. Before it does so, according to Reuters Israel is bombing Gaza with renewed ferocity.
Ending a night of sporadic gunfire, the roar of jet aircraft around10 p.m. ET was followed by heavy explosions flashing over points to the south and north of the city of Gaza.

The Israeli army said 50 targets here hit, including 16 tunnels, two mosques from which troops were fired on, three bunkers, eight rocket-launching pads and six mined areas including a booby-trapped building.

A spokeswoman had no immediate comment on a report that two civilians were killed near a school. About 45,000 Gazans are sheltering in U.N.-run schools in the enclave.
Tipsy Livni is in the US organising support for Israeli plans.
Foreign Minister Tzipi Livni, hoping to succeed Olmert when Israel votes on February 11, said on Friday that an end to the war "doesn't have to be in agreement with Hamas but rather in arrangements against Hamas."

She was in Washington sealing a pact for U.S. help to ensure Hamas no longer smuggles arms to Gaza via Egypt. She said Hamas still holds kidnapped soldier Gilad Shalit, a cause celebre in Israel, whom Hamas considers a trump card.

Exiled Hamas leader Khaled Meshaal on Friday called Israel's ceasefire terms unacceptable. Demanding an end to the punitive Israeli blockade of Gaza, he said Hamas would fight on.

Hamas negotiators, however, were due to meet the Egyptians on Saturday to discuss Israel's response to their conditions.

Hamas offers a one-year, renewable truce on condition that all Israeli forces withdraw within a week and that all the border crossings with Israel and Egypt are opened.
The Times reports that shells have been found in Gaza with markings identifying them sd white phosphorous shells – shells made in the US.
Remnants of an Israeli white phosphorus shell, identified by the marking on the outer casing — M825A1 — have been found in the village of Sheikh Ajilin in western Gaza.

Witnesses in Gaza said that the shell was fired on January 9 and was taken indoors as evidence. They recalled seeing thick smoke and smelling a strong odour in keeping with the garlic-like smell associated with white phosphorus.

Hebrew writing on the shell casing reads "exploding smoke" — the term the Israeli army uses for white phosphorus. Doctors who examined the shell said that it appeared to include phosphorus residue.

Residents said that they suffered burns on their feet when they walked where the shelling had taken place.

…

A suspected phosphorus victim was taken from Gaza across the border into Egypt yesterday. Abdul Rahman Shaer, 16, was transferred to an Egyptian hospital from Rafah. He was suffering from severe chemical burns to his face and body. Paramedics from Gaza said that doctors at the hospital were sure the chemical agent was phosphorus.
And in the Guardian:
Fresh evidence of the firing of white phosphorus weapons by Israeli forces in Gaza has emerged from witnesses heard by the Guardian and first hand accounts by human rights groups of their use against civilians.

Graphic descriptions of attacks by Israeli forces near the Gaza town of Khan Younis are contained in footage shot by Fida Qishta for the International Solidarity Movement and obtained by the Guardian.

A woman described how on Tuesday Israeli forces "started to fire phosphorus bombs against the people, of course, they are civilians …"
The UN is calling for investigation into this morning's shelling of a UN school/shelter which killed at least two boys and injured 14 people.
Christopher Gunness, a UNRWA spokesman, said several rounds hit the UN school at about 6:45am. After a short pause, the third floor of the school took a direct hit, killing the two and injuring another 14 people.

Witnesses said four more people were killed when other shells struck nearby as people tried to escape.

About 1,600 civilians had sought refuge from the fighting inside the building, Gunness said.

"The Israeli army knew exactly our GPS co-ordinates and they would have known that hundreds of people had taken shelter there," he said.

"When you have a direct hit into the third floor of a UN school, there has to be an investigation to see if a war crime has been committed."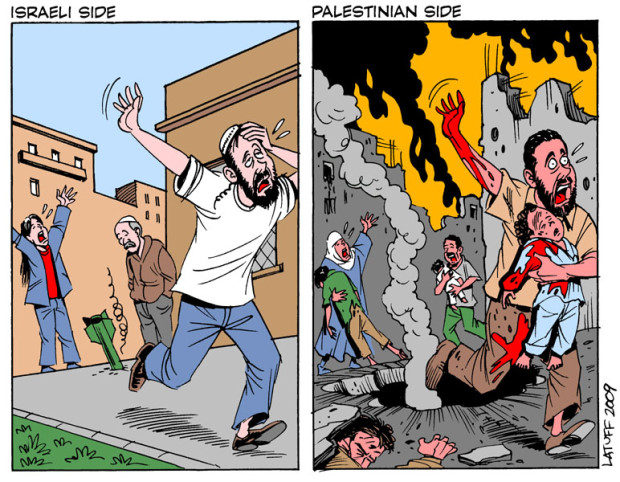 The latest Jewish Voice for Peace newsletter is inspiring.
One bright spot in the midst of this terrible darkness is the explosion of dissent in all corners of the globe.
The profoundly ignorant statement made by Clare Gatehouse in the UN's Emergency sitting GA/10809 on Jan 16 saddens me – that our government is still blinded by a cloud of hasbara is a fair indication of the control Israel is exerting on Australian foreign policy.
CLARE GATEHOUSE ( Australia) said Australia was deeply disturbed by the violence in the Gaza Strip and southern Israel and strongly supported the call in Council resolution 1860 (2009) for an immediate, durable and fully respected ceasefire. She supported the resolution's recognition of the need to address arms smuggling and open border crossings and its call for the unimpeded provision and distribution of humanitarian assistance throughout the Gaza Strip.

She welcomed the Egyptian French ceasefire proposal and the important role played by Egypt and others, including Secretary General Ban Ki-Moon. A solution had to be found to end Hamas' rocket attacks against Israel, which had led to the current crisis, and it must also end arms smuggling into Gaza. The crisis had demonstrated the vital need for a two State solution to the Israel Palestine conflict.

Australia was deeply concerned that the conflict had profoundly affected civilians. She condemned any action by Hamas to deliberately endanger civilian lives and called on Israel to do all it could to ensure the safety of United Nations and humanitarian workers. She said Australia had committed $5 million in additional assistance to the people of Gaza on 1 January 2009 to provide emergency food and medical supplies and cash assistance to conflict affected families.
The Australian government has failed to notice that there were no Hamas rockets fired during the truce prior to Israel's breach of the truce on November 4, 2008. Perhaps Stephen Smith should phone dual Australian Israeli citizen and Olmert spokesperson Mark Regev who confirmed this on Channel 4. Furthermore $5million is a palty amount to offer to Gaza, which has suffered $1.4b in damages at this point.
The President of the General Assembly excoriated Israel for its brutality.
Miguel d'Escoto Brockmann, president of the 63rd session of the United Nations General Assembly (GA), went on with opening the special session despite Israel's effort to block it, saying that "it's ironic that Israel is trying to silence the General Assembly."

"The relentless assault continues," the GA president said. "Gaza is ablaze."

"During this assault, more than 1,000 Palestinians have been killed, one-third of them children. More bodies remain buried under the rubble, out of reach of humanitarian workers because the shelling is too intense — the living would be killed trying to reach the dead," he said. "If this onslaught in Gaza is indeed a war, it is a war against a helpless, defenseless, imprisoned population."

"It seems to me ironic that Israel, a state that more than any other owes its very existence to a (1948) General Assembly resolution, should be so disdainful of United Nations resolutions," the GA president said.
More than 1,150 Palestinians have been killed and 5,100 wounded, many of them civilians since Israel commenced its unprovoked attack on Gaza.
The latest reports from the UN are alarming to say the least.
Mr. Ging said UNRWA, which aids 750,000 Palestinian refugees in Gaza, about half the population, is establishing alternative warehouses and is "up and running again" after Israeli shells destroyed the warehouse in its main compound yesterday, sending hundreds of tons of food and medicine up in flames. The fire continued to burn today. "Massive devastation and destruction" was reported in the area of the compound, he added.

The Agency is getting to most of those in need but there are still areas in the north of the Gaza Strip that are cut off. "It is an issue of major concern to us," he said.

Describing the situation on the ground, Mr. Ging stressed that it was "really terrible" that patients in hospitals come under fire, adding that innumerable numbers of people are living in shock. UNRWA is preparing to help traumatized children when they return to school.

"People are in mortal danger here in the Gaza Strip, and have been for the last 21 days and nights and the casualty figures bear that out. At the moment there is a glimmer of hope. They are bewildered, shell-shocked and in real fear but they are grasping at this latest round of diplomatic efforts in the hope that this might end," he said.

"I myself would never have predicted what has happened in full view of the whole world over these past 21 days and nights, but it has happened and continues right now, but I am hopeful, not least because of the efforts of our Secretary-General, which is there for all to see, and I wish others would join him in the degree of commitment and pro-activity that he is bringing to bear."

Asked what was the most outrageous scene he had witnessed, Mr. Ging replied: "Of course, it's always the dead children and it's very traumatic to see that, and it's equally traumatic to see children who are still alive but whose lives have been ruined, multiple amputees. The most traumatic sight of this conflict is visible in the morgues and in the hospitals.

"And each and every one of those cases is of course for the individuals and their families massively traumatic and life-altering, in most of them because of the horrific nature of the injuries, they're not just a flesh wound."

UN Humanitarian Coordinator for the occupied Palestinian territory Max Gaylard said the situation for hospitals, medical workers and the injured was alarming and deteriorating, stressing that hospitals must be protected and remain neutral areas under any circumstances. In a statement, he noted that 13 health workers had been killed and 22 injured, and 16 health facilities and 16 ambulances damaged or destroyed since the start of the Israeli military operation.

Meanwhile, the Office of the UN Special Coordinator for the Middle East Peace Process (UNSCO) reported that 69 truckloads of goods were allowed entry into Gaza from Israel today, including 26 trucks for UNRWA with flour, blankets, rice and bread, and one truck of medical supplies for the UN World Health Organization (WHO). At the Rafah crossing with Egypt, nearly 15 truckloads of food and medical and relief supplies passed through and 18 medical cases were evacuated.

The UN World Food Programme (WFP) reported that, in addition to its regular caseload of some 250,000 Gazans, it delivered canned meat and high energy biscuits to 13 Gaza hospitals, enough for 6,000 patients and staff for up to one month. WFP is also distributing ready-to-eat food to overcome the scarcity of cooking gas.
And here's the latest report from the UN Office for Coordination of Humanitarian Affairs:
FIELD UPDATE ON GAZA FROM THE HUMANITARIAN COORDINATOR

16 January 2009, 1700 hours

"The Red Cross is not managing to coordinate evacuation of wounded people. There are people right next to the Red Crescent hospital bleeding to death. We cannot get to them as the Israelis shoot at us." (Palestinian medic)

"Today the UN compound in Gaza has been shelled again. I conveyed my strong protest and outrage to the Defense Minister and to the Foreign Minister… The time has come for the violence to stop and for us to change fundamentally the dynamics in Gaza." (United Nations Secretary General Ban Ki Moon)

January the fifteenth witnessed the most intense fighting to date, with Israeli ground forces advancing deeper into densely populated areas, particularly Gaza City with an estimated population of 500,000 people. Since the morning of 15 January, relentless shelling of the Gaza Strip has struck a number of buildings, among them the main UNRWA compound in Gaza City and three hospitals.

Large numbers of civilians are trapped in their homes while thousands more are seeking refuge with host families and in UNRWA emergency shelters. There are no safe places or bomb shelters within the Gaza Strip and the borders remain closed. Security for medical personnel and access to medical facilities remains extremely difficult.

Following a year and a half of blockade and almost three weeks of intense bombardment by land, sea and air, the Gaza Strip is witnessing a devastating humanitarian crisis. The casualty rate is rapidly rising; extensive damage has been incurred to public infrastructure and homes; and water, sanitation and electricity services are barely functioning. Supplies of essential commodities such as food, cooking gas, water and fuel are diminishing and increasingly hard to obtain. Children, who make up 56 percent of the Gaza population, continue to bear the brunt of the violence and account for a significant proportion of the dead and severely maimed.

PROTECTION OF CIVILIANS

The Israeli army remains present in the north, east and Rafah border areas. Aerial bombardment, artillery shelling and naval firing continued throughout 14 January, in particular in the Zaitoun, Tuffah, eastern Gaza and other suburbs of Gaza City. The Al-Arqam private school in Gaza City was shelled, as was the Sheikh Radwan cemetery, destroying many of the graves.

The fighting intensified in the morning of 15 January, with Israeli forces advancing deeper into Gaza City from all sides. Residential buildings, high rise buildings, three hospitals and the UNRWA compound were among the buildings hit.

As of 14 January, UNRWA was hosting 39,669 displaced Palestinians in 41 emergency shelters in Gaza, most of them in the Gaza Governorate (17 shelters with 13,884 IDPs) and in North Gaza (13 shelters with 16,282 IDPs).

MEDICAL FACILITIES

The Al Wafa Hospital east of Gaza City (the only rehabilitation hospital in the Gaza Strip), Al Fata Hospital west of Gaza City, and Al Quds Hospital were directly hit by the Israeli army. One Al Fata Hospital ambulance and two Al Quds Hospital ambulances were hit.

Around 0530 hours, at least 500 people living in Tel el Hawa sought refuge at the Al Quds Palestinian Red Crescent Society Hospital. From 1030 hours, shelling struck the administrative building and damaged the second floor of the hospital. A fire broke out, putting at risk the patients, staff and displaced persons in the hospital. The fire was eventually extinguished at around 1400 hours. As people were leaving the hospital, one fatality and four injuries were reported due to fighting in the area. At about 1800 hours, the 500 displaced people were evacuated to an UNRWA emergency shelter.

UNRWA Main Compound

At approximately 1000 hours, Israeli shells struck the main UNRWA compound, injuring three persons. The shells caused a fire that destroyed a workshop and the main warehouse which housed hundreds of tonnes of humanitarian supplies, including those due to be distributed today, 15 January. Approximately 700 Palestinians were taking refuge in the compound at the time of the incident; they were eventually evacuated to a nearby emergency shelter.

Media Building

At approximately 0900 hours on 15 January, following intensification of shelling in the neighbourhood, journalists in Gaza City took refuge in the Al Shurouq Tower which houses the main offices and studios of various local and international media outlets. Despite assurances by the Israeli army that the building was not a target, the 13th storey of the building was struck by a shell at approximately 1115 hours. Two journalists from Abu Dhabi TV were injured. The explosion caused a fire which damaged transmission facilities.

Casualties

Palestinian Ministry of Health (MoH) figures as of 1600 hours 15 January are 1,086 Palestinians dead, of whom 346 are children and 79 are women. The number of injured stands at 4,900, of whom 1,709 are children and 724 are women. The danger to medical staff and the difficulty of extracting the injured from collapsed buildings makes proper evacuation and estimation of casualties difficult, including the determination of the number of Palestinian male civilian casualties.

From 1600 hours on 14 January until 1600 hours on 15 January, a total of 73 Palestinians were killed, of whom 24 were children, and 340 were injured, of whom 109 were children.

Nine Israeli soldiers have been killed since 27 December. Palestinian militants continue to fire rockets and mortars from the Gaza Strip into Israel. According to the Magen David Adom, the national society of the International Red Cross/Red Crescent Movement, Israeli civilian casualties stand at four dead and 78 injured since 27 December.

OCHA's casualty figures do not include the number of Palestinians or Israelis treated for shock.

Priority Needs

Ceasefire: While any mechanism that facilitates humanitarian assistance is welcome, only an immediate ceasefire will be able to address the severe humanitarian and protection crisis that the population of Gaza is faced with.

Protection of Civilians: Civilians, notably children who form 56 percent of Gaza's population, are bearing the brunt of the violence. As one of the most densely populated places in the world, more civilians risk being killed or injured if the conflict continues. The parties to conflict must respect the norms of International Humanitarian Law (IHL), in particular the principles of distinction and proportionality.

Access for ambulance and rescue teams: An unknown number of dead, injured and trapped people remain in houses which have been shelled and in areas where hostilities are ongoing. Due to attacks on ambulances, medical staff are fearful of reaching these places. The evacuation of wounded and safe passage of ambulances and health workers are fundamental tenants of IHL, and should be facilitated at all times. This includes the safe passage for evacuation of injured through Rafah crossing.
Speaking of unilateral action, Syria is calling for a full Arab boycott of Israel.
Bashar al-Assad, the president of Syria, told like-minded leaders meeting in the Gulf state of Qatar that the 2002 Arab peace initiative, backed by the entire 22-member Arab League, was no longer valid. Syria had already announced an end to its own talks with Israel, brokered by Turkey and focusing on the Golan Heights.

The Arab initiative promises recognition of Israel in return for a withdrawal to the 1967 borders and a just settlement of the Palestinian problem. It is widely considered to be the only basis on which a comprehensive Middle East peace settlement could be reached and has already attracted the attention of US president-elect Barack Obama.

Assad's unilateral announcement does not mean the plan has been formally withdrawn – that would require a full Arab summit. But his statement illustrates just how difficult it will be to rescue hopes for progress towards a wider regional peace once the immediate Gaza crisis is over.

The Syrian demand to cut links with Israel was directed primarily at Egypt and Jordan, both of which have had peace treaties and full diplomatic ties with Israel since 1979 and 1994 respectively.
Protest in the UK amongst academics is continuing to mount with terse letters in major newspapers.
The massacres in Gaza are the latest phase of a war that Israel has been waging against the people of Palestine for more than 60 years. The goal of this war has never changed: to use overwhelming military power to eradicate the Palestinians as a political force, one capable of resisting Israel's ongoing appropriation of their land and resources. Israel's war against the Palestinians has turned Gaza and the West Bank into a pair of gigantic political prisons. There is nothing symmetrical about this war in terms of principles, tactics or consequences. Israel is responsible for launching and intensifying it, and for ending the most recent lull in hostilities.

Israel must lose. It is not enough to call for another ceasefire, or more humanitarian assistance. It is not enough to urge the renewal of dialogue and to acknowledge the concerns and suffering of both sides. If we believe in the principle of democratic self-determination, if we affirm the right to resist military aggression and colonial occupation, then we are obliged to take sides… against Israel, and with the people of Gaza and the West Bank.

We must do what we can to stop Israel from winning its war. Israel must accept that its security depends on justice and peaceful coexistence with its neighbours, and not upon the criminal use of force.

We believe Israel should immediately and unconditionally end its assault on Gaza, end the occupation of the West Bank, and abandon all claims to possess or control territory beyond its 1967 borders. We call on the British government and the British people to take all feasible steps to oblige Israel to comply with these demands, starting with a programme of boycott, divestment and sanctions.
Will the TV celebrity of Palestinian doctor Abu al-Aish who lost three daughters to an Israeli tank shell bursting into their home impact upon the self-righteous, hypnotised Israeli public? or is he just another inferior Gazan slave like the rest for them?
"Everyone knew we were home. Suddenly we were bombed. How can we talk to Olmert and (Foreign Minister) Tzipi Livni after this?" Abu al-Aish told television reporters at the border crossing.

"Suddenly, today when there was hope for a cease-fire, on the last day … I was speaking with my children, suddenly they bombed us. The doctor who treats Israeli patients."