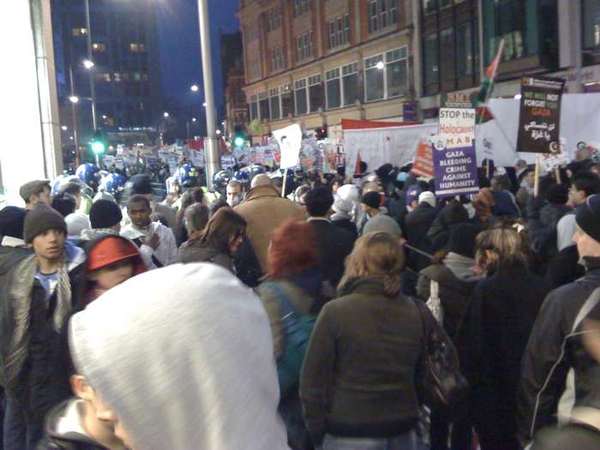 Around the world people from all walks of life, religions and cultures joined hands to protest against Israel's pogrom against the people of Gaza.
In London, over 100,000 people marched to the Israeli Embassy. Spain held the largest demonstration:
Organisers said more than 250,000 people marched through Spain's capital of Madrid, with other European cities including Athens, Brussels, Rome, Naples Frankfurt, Munich and Berlin also the focal points of protesters.

The protest in Madrid was the largest of demonstrations across Europe, although there were expressions of both support and opposition for the Israeli offensive in Gaza.

…

Oscar-winning actor Javier Bardem's mother Pilar, addressed a crowd estimated by organisers to number 250,000.

She said: 'The Spanish government has to do something. The Gaza Strip is now practically a concentration camp.'

…

In Edinburgh, protesters hurled about 300 shoes and red paint at the U.S. consulate in the Scottish capital.

…

Event organiser Nick Napier said the action was taken as a result of the 'rage and anger' over the death toll in Gaza over the past two weeks.

'People are here because they know the trail of blood leads from Gaza back to Britain and that Gordon Brown, while publicly calling for a ceasefire, we know has instructed his diplomats in New York to support the Americans,' he told Sky News.

…

Elsewhere in the world, some 20,000 people took to the streets in Berlin and other German cities.

Protesters threw snowballs at two Israeli flags that hung from the windows of a house along the demonstration route, but otherwise no incidents were reported.

In Amman, Jordan, more than 2,000 took to the streets and in Syria, another 2,000 marched in a Palestinian refugee camp near Damascus shouting anti-Israeli slogans.

There were also demonstrations in the U.S., France, Norway, Greece, Malaysia, Sweden, Bosnia, Lebanon, Thailand, South Korea and India.
For a step by step well-written narration of the London protest, visit read Shahid's post at Suspect Paki.