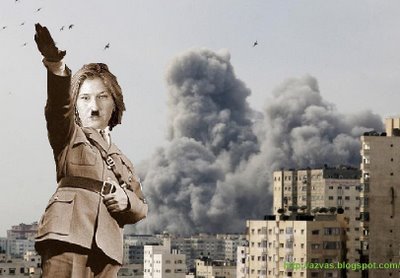 Cartoon republished with permission of our delightful Auntie Ziona
Tipsy Livni, electoral hopeful in the forthcoming Israeli election isn't backward about coming forward on her plans to ethnically cleanse Israeli Arabs from Israel.
Israeli Foreign Minister Tzipi Livni, a frontrunner in the race to become premier, said on Thursday that Arab Israelis should move to a Palestinian state when it is eventually created.

"My solution for maintaining a Jewish and democratic state of Israel is to have two distinct national entities," she told a group of secondary school students in Tel Aviv in remarks broadcast by army radio.

"And among other things I will also be able to approach the Palestinian residents of Israel, those whom we call Arab Israelis, and tell them: 'your national aspirations lie elsewhere.'"
Tipsy is brash about her firmly held tenets as well –
I can understand the eagerness of the international community to see the return to calm," Israeli Foreign Minister Tzipi Livni told European foreign ministers in Jerusalem. "This is our dream as well. This is what we are looking for. Unfortunately, there are those who cannot accept the idea of living in peace in this region."
Considering it was Israel who broke the ceasefire on November 4, not to mention the 60 year long inflammatory occupation perpetrated on Palestinians in their own land, the creeping land thefts, check point humiliations, apartheid bantustans amongst a litany of travesties, there's no doubt who is currently the more powerful, brutal instigator of conflict and non-acceptor of peace in the region. Brutality breeds brutality – occupation foments resistance. That the Israeli state is a chronic sufferer of Munschausen's Sydrome by proxy is a possible diagnosis. Or something worse?