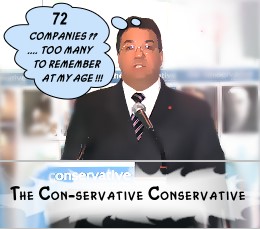 Angry and embarrassed, Howard accepts Santoro's resignation – in the light of previous resistance exemplified by a declaration that Santoro's lapse of memory was a mistake, not a sackable offence, we are left in no doubt that the prime monster's vaunted code of ministerial conduct has been garish window-dressing to cover up shameless debauched hypocrisy.
Howard has enjoined all his ministers to scrutinise *their* shareholdings – thus prospects for ongoing hilarious political entertainment have been improved considerably over and above the still-pending federal police investigation into three MPs over allegations of abuses of their printing allowances. The latest Morgan polls show Labor maintaining a stunning lead 61/39 – looking very grim for the Libs at this juncture.
Companies which Santoro absent-mindedly held and or traded through his and his wife's family trust since late 2005 are (courtesy of William Burrough's Baboon):
Bemax Resources NL
Lafayette Mining Limited
Village Life Ltd
Viking Industries Limited
Alchemia Limited
QM Technologies Limited
White Sands Petroleum Limited
Hardman Resources Limited
Oaks Hotels & Resorts Limited
Run Corp Limited
Tutt Bryant Group Limited
Macquarie Media Group
Traffic Technologies
Emitch Limited
Adelphi Energy Limited
Conquest Mining Limited
CBH Resources Limited
Souls Private Equity Limited
Brainz Instruments Limited
Ritract Instruments Limited
Babcock and Brown Environmental
IBA Health Limited Ordinary
Investments Limited
PMP Limited
Babcock & Brown Wind Partners Group
Resolute Mining Limited
Transurban Group
Pipe Networks Limited
MFS Living and Leisure Group
CBio
Reserve Corp Limited
Aditya Birla Minerals Limited
Advanced Business Solutions Limited
United Group Limited
Essa Australia Ordinary
Highlands Pacific Limited
Indophil Resources NL
CBH Resources Limited
Wotif.Com Holdings Limited
Strike Oil Limited
Arc Energy Limited
Dyno Nobel Limited
Emperor Mines
White Sands Petroleum Limited
Ausenco
Icon Resources
BBI Infrastructure Shares
STW Communications Limited
Sedgman Limited
Technology One Limited
Nomad Building Solutions Limited
Antares Energy Limited
Watpac Limited
Senetas Corporation Limited
Australian Pipeline Trust Shares
Energy World Corporation Ltd
Babcock Brown Power Stapled
Securities
Emeco Holdings Limited
Axiom
QM Technologies
Tutt Bryant
Oaks Hotels and resources
Campbell Brothers
White Sands
Pipe Networks
Ausenco
Watpac
S8
Queensland Gas
AP Eagers
Radio Rentals
CSG
Oxiana
Industrea
Imdex
Southern Gold
ARC Energy
The now ex-Minister for Aging's company
"… also acted as sub-underwriters — a buyer of last resort — in money-raising ventures by 14 companies. It is not clear how many shares, if any, were ultimately purchased from those activities."
Hmmm. Wonder which companies they were, and what windfall gains the dishonourable minister received from them?
Santoro's investment in CBio was a clear conflict of interest with his ministerial portfolio – CBio is investigating treatments for arthritis and other ailments affecting the elderly. He whimpered that he acted immediately when he realised he hadn't declared the shares, with little Johnny backing him up. Yet
When he was appointed as the Minister for the Ageing a month later, he didn't declare those shares, or sell them and he says he didn't realise the mistake until last October.
The sagging LVL was yet another company related to his Aging portfolio in which Santoro had interests.
Howard's attempted coverup on Santoro's behalf at this point looks pathetically desperate and ill-informed:
Once the failure to expose them entered his consciousness and he became aware of it, he took immediate steps, and he was quite open. And he got rid of them and profit was made, but it was not retained and he donated the profit to a charity. And I think that was the right thing to do.
The organisation which received the 100% profits, the Family Council of Queensland, was not in fact a charity. It was a rightard fundo zealot lobby group.
Before Senator Santoro's appointment to the ministry, investment broker Retirewell Financial Planning director Alan Baker made a single offer of $6000 worth of CBio shares to the Santoros. Senator Santoro and Letitia held on to them after he was made a minister and sold them last October when he realised the potential conflict of interest.

The profit was donated to a Queensland conservative lobby group run by Mr Baker. Mr Baker would not comment on the transactions yesterday.
Baker in fact was Santoro's financial adviser. Santoro
… has also refused to say whether he has ever lobbied on behalf of the adviser, Alan Baker, over causes he pursues in his role as head of the Family Council of Queensland.

…

He also refused to respond to a series of written questions forwarded by The Australian revolving around his dealings with Mr Baker, a campaigner for family causes, and an opponent of abortion and stem cell research.

He refused to discuss whether Mr Baker, who is an associate director with Retirewell Financial Planning, was his normal financial adviser or whether he had ever lobbied for commonwealth grants on his behalf.
Never one to miss an opportunity to put the boot into the chronically afflicted Qld Liberal party, Peter Beattie put in the boot in Parliament:
Mr Speaker, the reality is, the once-proud Liberal Party, you can see it they're as corrupt as humanely possible.

They are as corrupt as the National Party, when you talk about the Liberal Party what do you think about? You think about corruption.
Good riddance to Santoro, hypocritical and distinctly un-Christian, cosily supportive of the views and objectives of far right religious nutters – the more of these pernicious weasily fundoids out of power, the more mentally healthy our society will be. Once again, the dictum that the louder rightard religious freaks bleat their deluded pseudo-moralities justifying interference in the private lives of others, the more they have to hide themselves is proved correct.