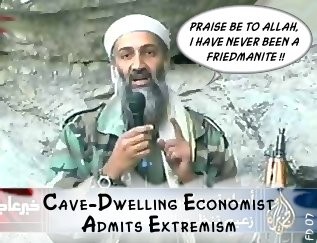 The learned Sun Tzu wrote in "The Art of War" more than 2,000 years ago:
One who knows the enemy and knows himself will not be in danger in a hundred battles.

One who does not know the enemy but knows himself will sometimes win, sometimes lose.

One who does not know the enemy and does not know himself will be in danger in every battle.
Over recent years, there has been considerable confusion in the West about what university qualifications Osama Bin Laden actually possesses. A firm knowledge of his various expertises would seem to be of great import if his adversaries wished to benefit from Sun Tzu's dictums.
In this interview with Robert Fisk in 1996, he says "I am a construction engineer and agriculturalist." At that time, indeed he was. The interview does not, however, mention his educational qualifications.
Wikipedia is currently ambiguous.
Bin Laden may have studied economics and business administration[16] at the Management and Economics School of King Abdulaziz University in Jeddah. Some reports suggest bin Laden earned a degree in civil engineering in 1979,[17] or a degree in public administration in 1981.[18]