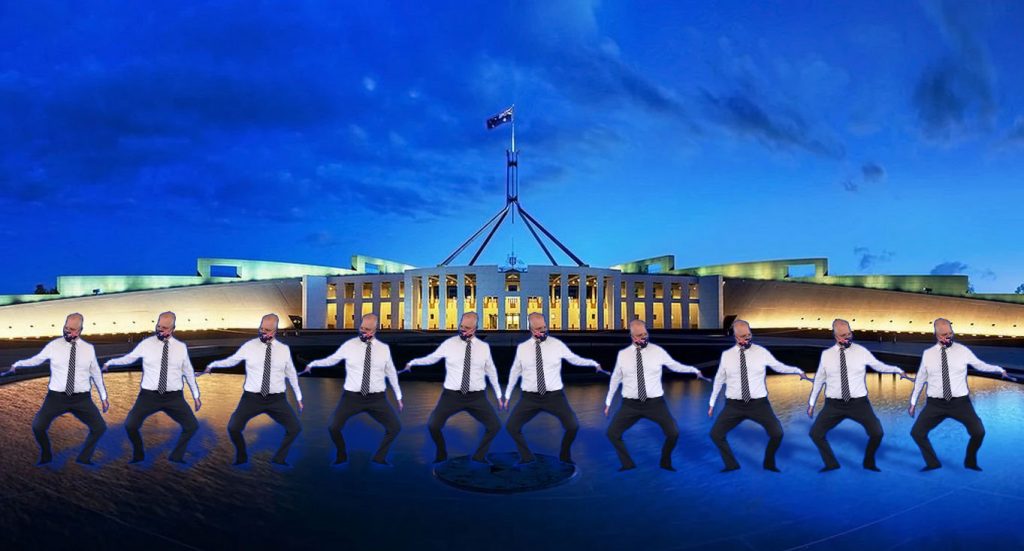 BONKARAMA CANBERRA
Don't step out of line, girly,
I'll run me blokey hormones all over yer,
You're a cute little blonde from the junior staff
and you're gonna learn who's boss round here.
It's Canberra bonkarama,
where men are men and run the show,
Put on your glad rags and take my arm
or your career will have to go.
CHORUS:
Bonkarama, Canberra
Bonkarama, Canberra
Where men are serious
and women are nervous.
Bonkarama, Canberra
Bonkarama, Canberra
There's sexual potential
in the power differential,
It's just good old human frailty
To lech after female beauty,
You can trust our daggy leader
whatever crap he feeds yer,
Bonkarama, Canberra
Bonkarama, Canberra.
Jinjirrie, November 2020
Related Links
Inside the Canberra bubble: Liberal ministers' relationships with staffers prompted 'bonk ban'
Christian Porter was warned over public behaviour with young female staffer by then-prime minister Malcolm Turnbull
BREAKING:Want to know why our @4corners story in public interest? Want to know why women silenced? Here's why: @RachelleJMiller due to start new job w Defence contractor today. She arrived & they said they "need more time to consider" her contract given media appearance. #auspol

— Louise Milligan (@Milliganreports) November 15, 2020

The Canberra bubble investigation points to an underlying problem we seem to see over and over again
Michael Pascoe: Hypocrisy and smokescreens cloud the 'Canberra Bubble'
Ghosts of the past come back to haunt PM
A former staffer for Liberal frontbencher Alan Tudge has claimed she felt "belittled" and "bullied" by him and wants the PM to investigate.