This month, Israel's hasbaristas sprinkled the net with April Fools droppings, attempting to troll BDS human rights activists up the garden path. Despite the Isaeli propaganderists' desperate efforts, noone was deceived.
The first trick involved singer Adele. Will she be amused to discover she has been used to promote a hoax?
Diva City! Grammy Award winner Adele confirms a Tel Aviv concert – with Barbra Streisand!

Fresh from her recent Oscar success, British singer Adele has confirmed a concert in Tel Aviv this June! And not any old concert – she'll also be sharing the stage with living legend Barbra Streisand!

Multiple Grammy Award winner Adele will be performing in Tel Aviv on June 18, two days before Barbra Streisand's concert in Israel. But thanks to some amazing negotiations from renowned producer Shuki Weissermeister, Barbra will be joining the younger diva on stage for at least THREE songs!

Adele has revealed that her proudest moment came recently, when she recorded the theme song for the new Bond movie Skyfall, but this visit to Israel, and especially her scheduled duet with the legendary Barbra Streisand, might just top the lot!

Proud of her North London roots, and especially her love of Tottenham Hotspur (not sure we can forgive her for this…), Adele also has some Jewish ancestry that she keeps to herself, but maybe this visit to the Holy Land will bring out the head coverings and long skirts in her, who knows…

No news of tickets or prices, but as soon as we get anything, we'll post it here.

In the meantime, here she is…

[and below the vid]

Oh, and check your calendars. We think you've been had. 🙂
In another shameless fabrication, Cafe Mouse Israel concocted a false story that Pearl Jam will play Israel.
Fake quotes from the band are made within the article. Pearl Jam's management was contacted, and they replied with "Sorry, Pearl Jam does not have a Tel Aviv show scheduled."
http://cafe.mouse.co.il/topic/2881565/
Translation of fake article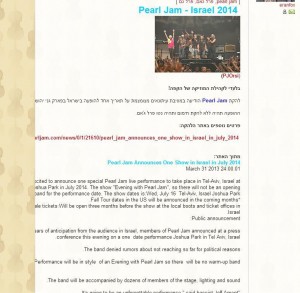 Pearl Jam Announces One Show in Israel in July 2014
March 31 2013 24:00.01

We are excited to announce one special Pearl Jam live performance to take place in Tel-Aviv, Israel at the Joshua Park in July 2014. The show "Evening with Pearl Jam", so there will not be an opening band for the performance date. The show dates is:Wed, July 16 Tel-Aviv, Israel Joshua Park
*Fall Tour dates in the US will be announced in the coming months.
Public Sale tickets:Will be open three months before the show at the local boots and ticket offices in Israel.
Public announcement:

After years of anticipation from the audience in Israel, members of Pearl Jam announced at a press conference this evening on a one date performance Joshua Park in Tel Aviv, Israel.

The band denied rumors about not reaching so far for political reasons.

Performance will be in style of an Evening with Pearl Jam so there will be no warm-up band.

The band will be accompanied by dozens of members of the stage, lighting and sound.

"It's going to be an unforgettable performance," said bassist Jeff Ament

"We did not believe such a small country in the Middle East, will have so much of a following," said lead singer and frontman Eddie Vedder

Date concert set for Wednesday 07/16/201
Remember: It's always advisable to cross-verify Israeli media reports and read articles critically, to ensure you are not misled by the apartheid regime's propaganda.