In the face of a growing number of significant successes for the Boycott, Divestment and Sanctions movement to end Israel's crimes against Palestinians, MK Danny Danon screams for more funding to expand Israel's noxious hasbara empire. Here's a Google translation of this story on INN:
150 messengers, trained and 500 missions and 22,000 explain, three million hits the site, 300 thousand leaflets, millions of followers Btoitr, and tens of millions of radio listeners do not – Jews in the world – this is a small part from Israel propaganda, as revealed today (Monday) Committee for Immigration, Absorption and Diaspora.

The problem: All projects and many others, budgeted at 40 Million shekels only, ten and a half million dollars.

Committee chairman MK Danny Danon (Likud) said it was a scandal the state's public budget in the world is under attack so sum – miserable. This is a comprehensive and impressive action. The firm does a lot, initiate grand projects – achievements, lack of success, but still does not get proper government backing. The budget must be increased significantly, to encourage the activities of Israel's friends in the world – that they do not – very few.

Minister of Information and Diaspora Yuli Edelstein told the meeting that the principle of information activity is beyond activism, and more on the defensive sufficiency, advocacy by citizens, and stop apologizing. Edelstein said the firm gave more than three hundred thousand leaflets – information about Israel at Ben Gurion Airport, in English, French, Spanish, Russian and Hebrew, hydrogen Ldibiitim training to more than 22 thousand people, and 500 delegations underwent training in public relations, and that 3 million people entered to date to "explain Israel."

The Minister presented the project "Faces of Israel", issued more than 150 representatives of Israeli society to the world in order to tell about life in the country, from the corner of academic studies, tourism, science, culture, living together and so on. "We are fighting the ignorance that many of the world at do not know that Ethiopian Jews or Bedouins – Israel, "said Edelstein.

Program "broadcast in Israel for ever" stayed in television and radio announcers and executives from the world, with 5-7 million listeners and over, broadcasting from Israel for a week. Like – yes Edelstein revealed that Hollywood film actors organize a delegation to come to Israel to learn how to look after children with special needs, as well as office assistance support for Israel annual march in New York. The minister also revealed that the ministry is working to connect Israelis – Jewish emigrants abroad and recognize Israel and sign a huge demand for this initiative.

Edelstein said he had recently held a conference in forty countries interested to learn from Israel about the connection with their distribution, and activity center office in favor of Israel against the world's Christian leaders. Edelstein noted the fruitful cooperation with the Ministries of Foreign Affairs and Tourism, the Jewish Agency and World Zionist Organization, "otherwise they could not carry out these projects."

Jewish Agency Secretary Josh Schwartz also noted the cooperation emissaries, especially on campuses, and Danny Wosner, representative of Jewish Federations of North America said that the firm serves the world's Jewish communities address. Show Melaku, IBA works, represented Israel in Ireland Several months ago, said that "We have received excellent training. The Irish do not know anything about Israel, and contrary to the image do not hate her. "

MK Shlomo Molla (Kadima) added also – is that "I was in college in California, considered to be particularly anti-Semitic, and Cshstodntim meet with the Israelis face – to – face, not through the media, the reactions are particularly good. Amount of only $ 40 million is a miserable, in front of government offices not to use their budgets until the end ".

Plot firm CEO Ronen said at the meeting that "The office was established three years ago from nothing, today is an empire of 40 projects that only 5 percent is presented here. Are in demand all over the world but we are forced to turn them away because of lack of sufficient budget. Should at least double the budget and increase the standards. "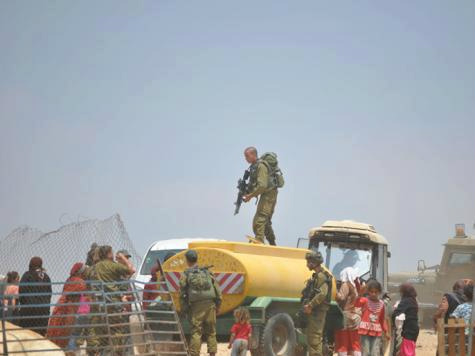 The Israeli army waited for the peak of summer heat to confiscate Palestinian water tanks.
No amount of money can destroy the truth about Israel's crimes, Danny. Instead of attempting to whitewash these unsustainable iniquities, money would be better spent ending Israel's racist persecution and land theft, removing injustice to Palestinians and conforming with the requirements of international law.
Related
Yuli Edelstein indicates his ire with the cultural BDS campaign
Danon further distinguishes himself with vehement racism at a recent conference by calling for the expulsion of 'infiltrators' to Israel –
"Enough talk," Danon said. "It is time for action. Deport all of the infiltrators from the state of Israel."

Danon offered his preferred solution to the ongoing issue: Israel must "build cities for infiltrators, finish construction of the border fence (along Israel's southern border with Egypt) and expel all the infiltrators from Israel," he said. "Illegal infiltrators must have two modes: Deported or awaiting deportation."

…

"Citizens of Israel have turned into refugees in their own homes, and the (African) refugees have become the permanent residents (of Israel)," Danon said.
Illegal Israeli settlement products are not for Minnie Mouse
USACBI issues letter to university presidents after Israel tour
Why Dr. Wissam Joubran from Nazareth refused to normalise Israeli oppression: 'Participation was conditioned on an Israeli singer appearing alongside me, yet such an appearance, when in Gaza there are still bodies coming out from under the ruins and the blood of hundreds of children and women is still shouting, would not be for the goal of presenting my music and art, but to attempt and present a sparkling picture of the relations between Jews and Arabs in Israel. My response was that I am not prepared to be the laundry detergent of the state of Israel in such a ceremony.'
Will Ireland propose an EU ban on Israeli settlement goods?
Professional apartheid : Doctors who receive their medical degrees from Al-Quds University, a prominent Palestinian institution of higher learning, can't practise in Jerusalem because Israel won't let them take the necessary licensing exam.
What Is Settler Colonialism: 'As Israel continues to claim the Palestinian kitchen as its own, so does the United States with Native America: consuming corn, wild rice, quinoa, cranberry, cornbread and Turkey with the confidence of a national cuisine. In the United States, settler colonialism has been so complete, and so successful, that the world has forgotten that South Africa, Australia and Israel are all reproductions, all approximations of the ongoing victory back home.'
Palestine / Israel Links
Defense Ministry hires architect to resume construction of illegal West Bank outpost
New campaign from Stop the Wall targeting the German insurance company Allianz as the principle institutional shareholder in the Israeli arms company Elbit Systems.
Is Palestine going mainstream in British politics?
Lesson of The Atlantic attack on Mondoweiss: "New media" can't kick old habit of excluding Palestinians
Syria Links
Tariq Ali: What is really happening in Syria?
TARIQ ALI says we are witnessing in Syria a new form of re-colonisation by the West, like we have already seen in Iraq and in Libya.

Many of the people who first rose against the Assad regime in Syria have been sidelined, leaving the Syrian people with limited choices, neither of which they want: either a Western imposed regime, "composed of sundry Syrians who work for the western intelligence agencies", or the Assad regime.

The only way forward, in the interests of all Syrians, says Ali, is negotiation and discussion. But it is now obvious that the West is not going to let that happen because they are backing the opposition groups who are against any negotiation.
Australia Links
Daily spew – the US and Australia, tied at the knees by neoliberalism.
Boat people dreaming
Qld LibNat racism is vomitous – their conference passes a resolution that "Asian and Aboriginal history should not be taught at the expense of western history and Christian values".