You can contact Barrington Levy and let him know that breaking the boycott against apartheid Israel is unacceptable from the contact link on his web site.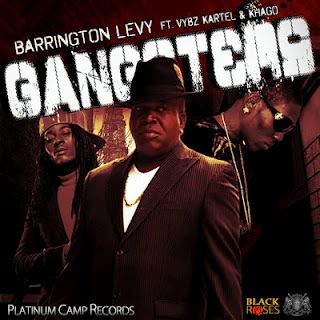 Dear Barrington Levy,
We have discovered you are scheduled to play in Israel on 22 June the 28 August.
The fact that there is a cultural boycott of Israel is not something of which all musical artists are aware when they schedule to play Israel. After becoming aware, many cancel. (See http://www.pacbi.org/etemplate.php?id=1788)
We are writing to let you know more about this global movement, and we hope you will decide to be a part of it.
Israel has claimed authority over the lives and land of millions of Palestinian people. What began in 1948 in Palestine has now escalated into what South African Archbishop Desmond Tutu and many others call apartheid. Racism runs deep in the streets of Tel Aviv, Africans seeking asylum and living as refugees are filled with fear as Israelis demonstrate on the streets against their presence. Last May brought fear to Africans in Israel as a series of fire bombings of apartments and a day nursery were set off in an area where African migrants live. Shops run by or serving migrants were smashed up and looted in violent demonstrations in which several Africans were attacked. Israeli Prime Minister Netanyahu stated:
"We'll start by ejecting the infiltrators from South Sudan…and then move on to other groups."
Israel's Minister of the Interior, Eli Yishai said chillingly:
"The infiltrators [African immigrants] along with the Palestinians will quickly bring us to the end of the Zionist dream…we don't need to import more problems from Africa…[they] think the country doesn't belong to us, the white man".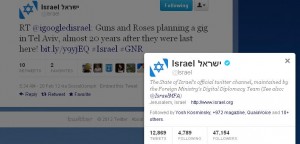 A heinous series of walls, checkpoints, and sniper towers dot the landscape for millions of Palestinians. Brutal military might is flaunted daily and children in Gaza are regularly targeted to demonstrate the "effectiveness" of new weapons. Armed soldiers raid homes, fire into schoolyards, maiming and killing children.
While some liberal "peacenik" Israelis will tell you they want you to play because they will be your audience, please know that the most effective tool to end the oppression is an unequivocal stand against the injustice by saying no. Instead listen to the brave Israelis from "Boycott From Within" who have asked many artists to stay away from the failing Zionist state. (See http://boycottisrael.info/ )
Artists who do play for apartheid are being used to promote Israel as a false democracy. The Israeli government has an official twitter and uses its position to let the world know which artists lend their name to promote Israel's false image. Just three of many examples are Bobby McFerrin, Gun N Roses and Sister Bliss.
Please don't allow your name to be used to whitewash racism, apartheid, and the horrible illegal annexation wall (pictured here in this recent video).
Join the boycott for justice, equality, freedom and human rights.
Yours truly,
DPAI
Don't Play Apartheid Israel (DPAI) seeks to inform musicians of the Palestinian call to boycott Israel, and the extent to which their decision to play in the apartheid state will be instrumentalized – against their will – as propaganda for the maintenance of a horrifying status quo in Israel/Palestine: that is a brutal, decades-long occupation, ongoing ethnic cleansing, continual land theft, passing of over 20 racist laws within Israel/'48, and the crackdown on human rights groups. We represent over 900 members from around the globe who believe that it is essential for musicians & other artists to heed the call of the PACBI, and join in the boycott of Israel.
For more information:
http://972mag.com/israeli-coalition-members-speak-about-refugees/47455/