17 May 2012 UPDATE: JLo has not yet confirmed she will be entertaining apartheid Israel. Her management has been asked, we are waiting for a response. In June 2010, Reuters reported that Lopez made a choice to boycott playing in Turkish-held Cyprus:
"Jennifer Lopez would never knowingly support any state, country, institution or regime that was associated with any form of human rights abuse," a statement on Lopez's website said.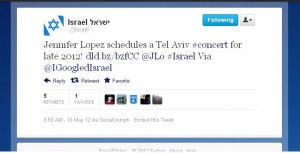 On 25 April, it was reported by Danielle Berrin for the Jewish Journal that a group of 30 leading music executives, entertainment lawyers, and talent agents met at the Ziffren Brittenham law offices with the infamous CCFP (Artists Against Apartheid has called for a boycott of the CCFP) and David Seigel ( the Counsel General of Israel in Los Angeles). Atar Dekel, the cultural attache for the Israeli Consulate was also a the lunchtime presentation.
Music moguls at the meeting represented artists such as Lady Gaga, Celine Dion, Aerosmith, Justin Timberlake and Jennifer Lopez.
Just 2 weeks after the article was published, the Israeli press and Israeli twitter accounts announced with great fanfare that Jennifer Lopez will perform for Israel in late 2012. Her planned performance most likely comes as a response to the intense pressure of the CCFP, as well as the Counsel General of Israel in Los Angeles.
The above tweet was created by the State of Israel Official Twitter Channel, which seems to be dedicated to using many artists' good names to promote their agenda of hostility to Palestinians.
There is no doubt that the BDS movement can be effective enough to lead to democracy, justice and equal rights in Israel, so it scares those who are loyal to an Israel that excludes people who are not deemed good enough to be "privileged." BDS also contributes to mass awareness of the present situation of apartheid in Israel. BDS is spreading because absolutely anyone can participate in it, and it is not necessary to travel to a protest or risk suffering from tear gas grenades. (Though many BDS movement volunteers certainly possess the passion to risk their lives to see freedom, justice & democracy for Palestinians and many do just that).
This seeming abuse of Jennifer Lopez in order to appease the CCFP and the Counsel General of Israel in Los Angeles is disturbing.
First, a concern exists over whether Lopez herself was informed of the boycott by whichever powerful music mogul who pulled the strings to get her on the Zionist State's artist playlist.
Second, is Lopez expected to concur with the motives of the CCFP? Is she in any jeopardy if she does not comply with the Counsel General of Israel in Los Angeles' expectations? It is hard to imagine that a 42 year old, self assured woman with a definite passion for woman struggling for their rights in Juárez, Mexico, (Lopez produced and starred in Bordertown), would close her eyes to the struggle that Palestinian woman must endure due to Israel's siege on Gaza and forceful occupation of the West Bank.
Next, is Lopez aware of how her good name has already been used by the CCFP to promote the false notion that Israel is a safe haven for refugees among many other lies and deceptions on the CCFP website?
It takes true courage and a very powerful sense of meaning and self to stand up to the intense pressure that many artists face to perform for apartheid Israel. Playing on the wrong side of history most certainly creates an ugly stain on any artists' resume.
Lopez has not confirmed her concert yet, and she may very well follow in the steps of Bruce Springsteen. Last November 2011, Springsteen's name was plastered all over the Israeli press. He has yet to book a gig for Israel. He most likely understands that apartheid builds walls music cannot cross. It appears that the Boss won't be bossed around by the music moguls. (See Springsteen, the Boycott, and Israel)
Related Links
While Israel uses African Americans for sexy hasbara, Interior Minister say 'most African refugees are criminals'
On the hasbara from Israel's ambassador to the US: "He is afraid of BDS. And calls it a more "sinister" tactic than what? Than violence? Yes; he would prefer violence. We don't know how to fight Gandhi, the Israelis say."
With implacable logic, Ilan Pappe explains why BDS of Israel is essential and will work to end its crimes against humanity.
Israel / Palestine Links
Israel can't handle the truth about its crimes, bans history.
Lieberman's macabre fascist opportunism is in the tradition of Herzl's political zionism "the anti-semites shall be our best friends"
Despite its insidious, massively funded hasbara shillery, or perhaps partly because of it, Israel is on the nose.
How Israel's apartheidists are (1) appropriating middle eastern cuisine (2) attempting to rebrand Nakba Day with their vile cultural appropriation, all during the Palestinian mass hunger strike.
From Kim Marie: 'Seriously disgusting Zionist hasbara – Happy Hummus Day, which has been designated May 15, is being promoted on the web and FB. After seeing this on Sol's FB page and his comment pointing out what "distasteful timing" it was, I started to do quick search – within in 3-5 mins it became clear that this part of a Zionist Hasbara campaign to rebrand Israel. If you look at the bottom left hand side of the Hummus Day website you will find the words "Innovation Israel Hackathon" – click on them and it takes you to a website by this name which states: "Innovation Israel Hackathon – Making Israel Go Viral! The Innovation Israel Hackathon is an initiative aiming to gather Israel's brightest talent to make Israel go viral". Everytime I think Zionist can't get any more disgusting, I am always proven wrong – not only do they steal Arab culture/cuisine and trying to claim for themselves, they do so on a day that marks the destruction of Palestinian society by Zionism. Seriously how is this any different to Holocaust denial? '
MK Haneen Zoabi, who calls for equal rights, is vilified by disgusting rightwing racist, sexist "journalist"