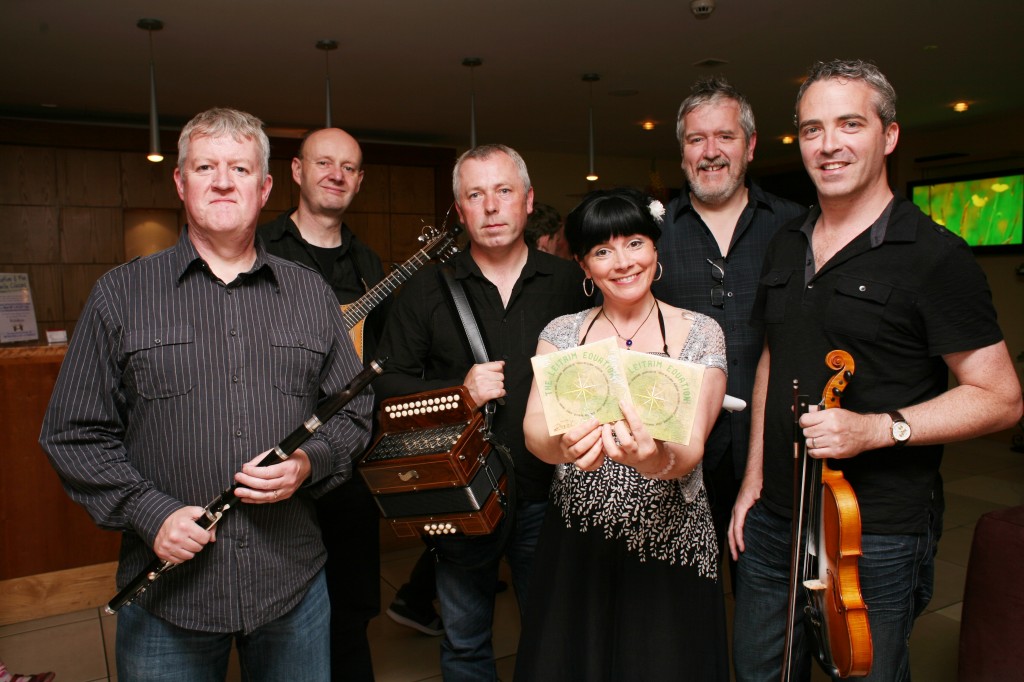 The Irish group Dervish has come forward with a courageous decision to stand up for Palestinians and the cultural boycott. Their note on their facebook states:
Dervish wish to announce they will not be taking part in the Irish music concert series in Israel this June.

Our original decision to participate in the concerts was, like all our tours and appearances, completely non-political.

The organiser of the shows is a musician and friend of the band for many years. He has worked to bridge divides between people through music for much of his life. These concerts were organised in this same spirit.

At the time we agreed to these performances we were unaware there was a cultural boycott in place.

We now feel that we do not wish to break this boycott.

Our decision to withdraw from the concerts reflects our wish to neither endorse nor criticise anyone's political views in this situation.

Dervish are a grouping of like musical minds, we are not a political party.

Our motivation as a band has always been and will continue to be our love of music
(from http://www.facebook.com/dervishofsligo/posts/10150865226896341)
An OPEN LETTER had been written to the band from Raymond Deane. A facebook page had been initiated asking the band to respect the boycott.
A letter of thanks to the band emphasizes how important and significant their decision is.
Dear Kathy Jordan, Brian McDonagh, Liam Kelly, Tom Morrow, Shane Mitchell and Michael Holmes of Dervish,

Thank you for taking a principled stand to say YES to the cultural boycott of Israel. You should be proud of your decision to act in favor of justice and human rights. You follow in the footsteps of Roger Waters who wrote:

"Where governments refuse to act people must, with whatever peaceful means are at their disposal. For me this means declaring an intention to stand in solidarity, not only with the people of Palestine but also with the many thousands of Israelis who disagree with their government's policies, by joining the campaign of Boycott, Divestment, and Sanctions against Israel. This is [however] a plea to my colleagues in the music industry, and also to artists in other disciplines, to join this cultural boycott.

Artists were right to refuse to play in South Africa's Sun City resort until apartheid fell and white people and black people enjoyed equal rights. And we are right to refuse to play in Israel."

South African Archbishop Desmond Tutu would certainly suppport your courageous decision, he wrote:

"International Boycotts, Divestment and Sanctions against the Apartheid regime, combined with the mass struggle inside South Africa, led to our victory … Just as we said during apartheid that it was inappropriate for international artists to perform in South Africa in a society founded on discriminatory laws and racial exclusivity, so it would be wrong … to perform in Israel".

Your cancellation in support of the cultural boycott brings the children in Jen Marlowe's heart wrenching film below one step closer to justice and freedom. We know you may have felt the pain of Gaza when Israel pounded it with thousands of tons of explosives. You would know that the suffering of surviving children in Gaza from Israel's attacks continues. In the heartbreaking short film: "One Family in Gaza", the children do play in the rubble of their house, but their little souls cannot escape the trauma of being shot at and seeing their home bombed and their brother repeatedly shot, even after his death. Jen Marlowe made this film showing the children play, she doesn't show the bombing, allowing their loving parents to speak of their anguish.

One Family in Gaza from Jen Marlowe

Dervish, the Israeli state has a multi-million dollar hasbara [the Hebrew equivalent to propaganda] campaign and thousands of recruits to propagate it. Some Israeli promoters who bring the artists to Israel were even invited to the Israeli Knesset to discuss the anti-boycott campaign and the Israeli regime agreed on financial support to those who bring artists from abroad. Israeli ministers previously have stated the significance of culture in whitewashing Israel's crimes – for example, Nissim Ben-Sheetrit of Israel's Foreign Ministry stated in 2005:

"We see culture as a propaganda tool of the first rank, and I do not differentiate between propaganda and culture."

We know you will be pleased to know that your name will not be used by Israel to justify policies of apartheid. You won't appear on the CCFP's dishonorable list of artists who ignored the boycott.

Thank you again for your great courage in honouring the Palestinian call for boycott, freedom, justice and the rights of innocent children like the dear ones in Jen Marlowe's film.
Sincerely,

Don't Play Apartheid Israel
We are a group, of 850 members, representing many nations around the globe, who believe that it is essential for musicians & other artists to heed the call of the PACBI, and join in the boycott of Israel. This is essential in order to work towards justice for the Palestinian people under occupation, and also in refugee camps and in the diaspora throughout the world.
"Like" and "Share" on Facebook: http://www.facebook.com/Dervish.no.Travelling.Show.Israel
UPDATE May 1, 2012
Whole Irish Festival in Israel cancelled?
Fullset announces their cancellation on Facebook and Twitter.
UPDATE May 3, 2012
On the duplicitous portrayal of the response to Dervish's cancellation of their date with apartheid:
"Let's remind ourselves, then, of what's really going on. Israel's new-found cultural appetite isn't about a night's entertainment in an Israeli concert-hall or theatre. It's about taking the world's mind off, and consequently her sympathies away from, the horrors being inflicted daily on the Palestinian people by the Israeli army and fanatical settlers. It is about the degredation and infamy of an apartheid regime; soldiers who can kill without answering to anyone, commanders who can commit potential war crimes and smile in the face of international law. It's about covering all of this up in tinsel. It's about promoting denial."