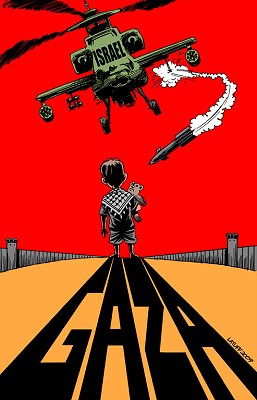 George Bisharat publishes an excellent article in the Seattle Times, insisting that Israel must be held accountable for its war crimes:
"THE boss has lost it," many Israeli military and political officials, and people on the street, were reportedly joking after their army's recent devastation of the Gaza Strip. As Israeli journalist Uri Avnery observed, the jest means that: " … in order to deter our enemies, we must behave like madmen, go on the rampage, kill and destroy mercilessly."

In fact, the "boss has lost it" is an unselfconscious admission of policies that violate international law, and could at some point be used against Israeli leaders in a criminal prosecution.

Evidence suggests that Israel may have committed at least seven serious offenses during its Gaza invasion: launching a war of aggression (because Israel itself triggered the breakdown of a six-month truce, and therefore did not have a valid claim of self-defense); deliberate targeting of civilian infrastructure; deliberate killings of civilians; collective punishment; illegal use of weapons, including white phosphorous; preventing care to the wounded; and disproportionate use of force.

These constitute grave breaches of customary and conventional international law, and some amount to war crimes. Hamas' indiscriminate rocket attacks on Israeli civilians were also war crimes, but did not justify Israel's violations.

What is the likelihood that Israel leaders faced with allegations of war crimes will ever be investigated and brought to justice?
Bisharat is not confident of any international court being able to try the Israeli war criminals and suggests it is civil action which may have the most success in conditioning Israel's sociopathic behaviour.
Thus, perhaps the "court of last resort" is that of international civil society, whose tools for nonviolent enforcement include boycotts, divestment and sanctions. That route, once so effective in helping to end apartheid in Africa, offers a powerful model for those seeking justice in Israel/Palestine today. Israel is both sensitive to Western opinion and dependent on trade and would likely respond to ostracism.
The UN's John Ging points out the continuing misery that Israel's illegal blockade of Gaza is causing, whilst reprimanding the Hamas police for seizing aid from UNWRA.
John Ging, the director of operations for the United Nations refugee agency in Gaza, said Thursday that Israel's blockade was creating growing misery there by choking off basic humanitarian supplies like food, medicine, clothes and blankets as well as school supplies.

He also criticized the leadership of Hamas for letting its police force run wild, attacking a distribution center for the needy to cart off supplies.

"We are neither getting in the volume nor the range of supplies that we need here," Mr. Ging told reporters at the United Nations, speaking via video link-up from Gaza. "This is creating a lot of misery among the people."

In one example, Mr. Ging said that the teachers in the schools run by the United Nations Relief and Works Agency had worked throughout the three-week Israeli bombardment that ended Jan. 18 to create a new human rights curriculum. But because Israel was blocking paper supplies, the textbooks and workbooks could not be printed, so some 60 percent of the children in United Nations schools lack books.
There's pertinent discussion on keeping the borders of Gaza open with Egypt at the Jerusalem post.
In the West Bank, an Israeli court has decided to permit the destruction of yet another Palestinian village situated on Palestinian land, for the benefit of a neighbouring illegal Israeli settlement.
About 25 Palestinian families would be forced to leave their homes and agricultural lands in the village of Khirbet Tana, located within the territory of the Beit Furik town, east of Nablus, after the Israeli high court rejected the objection made by human rights organizations on behalf of the families.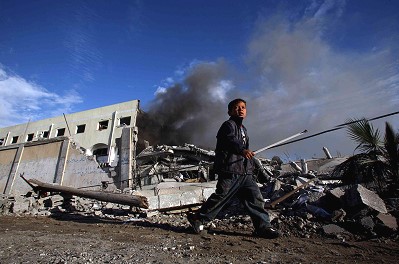 Racism in Israeli society is highlighted with the rise of Lieberman.
Arab Knesset member Ahmed Tibi has warned that Lieberman's rising popularity reflects a dangerous trend.

"We are talking about a pure and obvious fascist phenomena invading the Israeli society," Tibi said. "During the last years, racism became mainstream in the Israeli society."
Meantime, Abbas meets with Gordon Brown whose platitudes are empty without the support of the world's other hegemon, the US. Abbas also takes another counter-productive stab at Hamas.
The international community must make the reconstruction of Gaza a top priority, Gordon Brown has said.

Speaking after meeting Palestinian president Mahmoud Abbas, Mr Brown said he had urged Israeli PM Ehud Olmert to grant aid agencies full access to Gaza.

He also said it was vital that the fragile ceasefire between Israel and Hamas remained in place.

Mr Abbas accused Israel of "dreadful aggression" in Gaza but said there was no alternative to the peace process.

Gordon Brown said the UK had trebled its humanitarian aid to Gaza as a result of the recent conflict in which more than a thousand Palestinians, including 300 children, died.

He said it was in Israel's interest as well as that of the international community that aid agencies had unrestricted access to Gaza to help those in need.

"We must do everything we can to help rebuild Gaza and to provide humanitarian aid to families whose lives have been shattered," he said in Downing Street.

"We must help rebuild Gaza's economy to give hope that there can be a true peace dividend."

Countries in the region must do more to stop arms smuggling into Gaza while dialogue between different Palestinian groups must be stepped up to try and bring about a reconciliation, he said.

Progress in peace talks between Israel and the Palestinians was a "top priority" for the UK and world leaders must focus on the search for a lasting peace in the region with "renewed urgency", Mr Brown added.

Mr Abbas said the cost of rebuilding Gaza would be close to $15bn (£10.2bn) and the "world must keep sending aid".

The Palestinian Authority, which he heads, has said it will donate $600m (£408.8m) towards reconstruction in Gaza.

He accused Israel of seeking to "deepen divisions" between the Palestinian Authority and Hamas through its campaign in Gaza, which Israel says was provoked by Hamas rocket attacks.

But he also attacked Hamas for perpetrating what he called "a revolution" in Gaza.

However, he called for Palestinian unity and for the resumption of peace talks with Israel on the basis of approved UN resolutions.

"We believe that there are no alternatives to peace in the Middle East," he said. "We remain committed to achieving peace."