Carter says Mitchell must negotiate with Hamas to enable peace.
[Carter] has said any future permanent Israeli-Palestinian agreement has to include Hamas, the Palestinian movement that controls the Gaza Strip.

Carter also told Al Jazeera's Riz Khan on Wednesday that US presidents were unable or unwilling to take on Israel's supporters in the US, but said he had high hopes for George Mitchell, the new US Middle East envoy.

The former US leader said there was "no way to have a permanent peace in the Middle East without the inclusion of Hamas".

"Hamas has got to be involved before peace can be concluded."

Carter said reconciliation between Hamas and Fatah, the faction led by Mahmoud Abbas, the Palestinian president, had been "objected to and obstructed by the US and Israel".

…

Carter said that US presidents had officially backed UN resolutions calling on Israel to end its occupation of Palestinian land, but that they had been unwilling to take on Israel's political allies.

"The fact is that very few of the presidents have been willing to confront Israel's forces in the United States, politically speaking," Carter said in what appeared to be a reference to the powerful Israeli lobby.

Carter, a Democrat who was president from 1976 until 1980, praised Obama for signalling deeper US involvement in the quest for Middle East peace by appointing Mitchell.

"If you look at US Middle East envoys in the past, almost all of them have been closely associated with Israel, sometimes even working professionally for Israel. George Mitchell is a balanced and honest broker compared to the others."
Carter feels confident that with the new administration there is potential for peace.
Hamas is remaining firm, refusing Israeli terms for peace, offering instead a year truce for border openings and release of Shalit for release of Palestinian prisoners.
Hamas's political leader Khalid Mashaal has rejected conditions set by Israel for a long-term truce with the Islamic movement.

"We were recently informed of (Israel's) conditions for calm … We reject these Israeli conditions. We will not accept them," Mashaal said in Doha on Wednesday.

The remarks were made after outgoing Israeli Prime Minister, Ehud Olmert, said Tel Aviv would open the crossings with Gaza only if Israeli soldier Gilad Schalit was released.

Schalit was captured by Palestinian fighters in a cross border operation in June 2006.

"In response to the child killer, Olmert," Mashaal said, "I say to you in the name of Hamas and in the name of the heroes who are holding Schalit, we will not accept that crossings be opened in return for Schalit."

He reiterated that Schalit would only be released in exchange for the Palestinian prisoners whose names were given to Ofer Dekel, the former Israeli coordinator of the issue.

Salah el-Bardawil, a member of the Hamas delegation who is currently in Cairo for peace talks also rejected Israel's demand.

"If they want to release Schalit, they have to pay a price in return… the 11,000 Palestinian prisoners in Israeli jails waiting to be released," he said.

The Hamas delegation has offered a year-long truce but demanded "guarantees that Israel shows commitment to lift the siege and completely reopen crossings."
Prize for the most macabre story of 2009 so far goes to this horror show – where the murderers of children's parents complain when Hamas refuses to let the children "vacation" in the state which orphaned them. Israel is officially insane.
Most of the children were orphaned as a result of the IDF bombing during Operation Cast Lead, The Kibbutz Movement had sponsored the vacation for 47 children, who are between the ages of four and 13. The children were to be accompanied by five adults from the Strip as well as Arabic-speaking youth movement members from Israel, and were to be hosted in Kafr Kasem, Haifa and Kibbutz Sasa.

…

Prime Minister's Office spokesman Mark Regev said he had not previously heard about the incident Wednesday, but told The Jerusalem Post that "Hamas, through its actions, continually demonstrates that the last thing on its mind is the well-being of the civilian population of the Gaza Strip."
Al Jazeera today offers a story on the mental health crisis amongst Palestinian men in Gaza as a consequence of Israel's two year siege and massacres.
"I don't sleep, very rarely, maybe a couple of hours per night. I am constantly worried. Even if I wanted to get out, to take a break and go somewhere to forget a little, I can't because the crossings are closed.

"I can't even take a walk along the shore because there are warships in the sea the whole time and they may aim at me," he said.

….

The GCMHP, Gaza's largest mental health clinic, employs nearly 30 psychiatrists, psychologists, social workers and nurses.

Although its headquarters were hit during the war, doctors continue to work around the clock to treat the ever-increasing number of Palestinian patients living in the Gaza Strip.

Dr Eyad Sarraj, the director of the GCMHP, said: "Adults are the symbol of protection, providing and power for the children.

"Adults have already been lost as providers because of the economic siege. During this war, they were lost as protectors.

"Children were looking up to them to ask them, 'Where is a safe place? How can you protect me?'

"Some felt defeated as men, defeated in the struggle because they could not defend their children."

Saraj says that at least half of the people living in Gaza need professional help to cope with the war. Many of them have a constant feeling of insecurity.

Like Fouzan, they live with a sense of collective trauma, built up over years – and even generations.
In retaliation for a rocket fired into the Negev desert, Israel has pummelled a metal factory in Rafah.
The Public Committee Against Torture in Israel (PCATI) and Hamoked, the Center for the Defense of the Individual, amongst 7 human rights groups, have gathered horrific testimonies on mistreatment from Palestinians kidnapped and detained by the IDF.
"The reports indicate that… many detainees – minors as well as adults – were held for many hours – sometimes for days – in pits dug in the ground, exposed to bitter cold and harsh weather, handcuffed and blindfolded," the groups said in a statement.

"These pits lacked basic sanitary facilities… while food and shelter, when provided, were limited, and the detainees went hungry," it said.

The groups accused the military of "gross violation of international humanitarian law" by holding some of the detainees close to tanks.

Incidents involving "extreme violence and humiliation by soldiers and interrogators" were also reported, the statement said, without giving details.

"We were handcuffed and blindfolded. They put us in a three-meter deep ditch with some 70 other people," Majdi Muhammad Ayid al-Atar, 43, from northern Gaza described, in one of the testimonies.

"We spent two days there without any food, water or blankets. They also didn't let us go to the toilet. Afterwards they moved us to another ditch. The soldiers kept beating anyone who dared ask for anything," he was quoted as saying.

The groups have addressed a written complaint to the Military Judge Advocate General, and Israel's Attorney General, Meni Mazuz.

Attorney Bana Shoughry-Badarne, Legal Director of PCATI, said the findings were "particularly objectionable" as the Israeli military had repeatedly stressed that it "prepared at length for the Gaza operation".

"It seems that, during these lengthy preparations, the basic rights of the detainees and captives were completely forgotten," she said.

She said the groups had the names of 29 people who had been detained, 25 of whom were still being held.

The other groups were the Association for Civil Rights in Israel, Physicians for Human Rights, B'Tselem, Yesh Din and Adalah.
Evidence of Israelis using Palestinians as human shields amongst other abuses has reached the Canberra Times.
Ali Ajramy, 39, a tailor, thrust his hands forward to show the sores on his wrists caused by plastic cables

"I was taken into this prison," he said. "And I was told to be quiet and kneel down."

The three were among about 85 men who were moved into the sandpit area and gathered at the western end.

They said the Israeli troops then took position around perimeter of the sandpit area and began to engage with Palestinian resistance fighters. "We kept our heads down, we didn't move for two days," Mr Madhoun said. "There was lots of shooting over our heads but I don't know where it was coming from. We were given blankets and food."

…

The deputy director of the Palestinian Centre for Human Rights, Jaber Jishah, said it appeared a textbook example of human shields.

"We are investigating this very thoroughly," he said.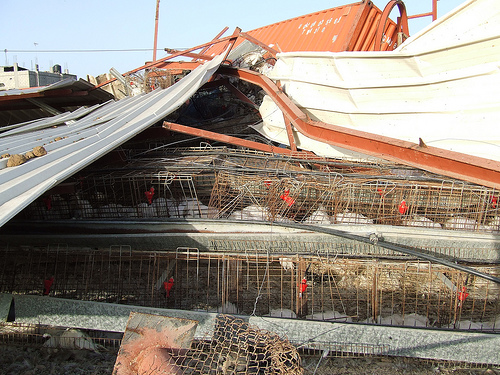 Further Israeli IDF psychosis is captured in Sameh Habeeb's story Were chickens firing rockets?
I continued touring farms in the area where the smell of death filled the air. Surviving chickens roamed around surrounded by thousands of their dead kin. It was an overwhelming scene leaving one to ask only: why?

If this question was directed to the Israeli army their response would be swift and predictable. They would likely contend that "rockets" were being fired from the farms, or that there were Palestinian resistance fighters in the area. However, unless the Israeli army is prepared to claim that these chickens were resistance fighters or were firing rockets nothing can explain why the self-proclaimed "world's most moral army" would engage in the wholesale slaughter of civilians and chickens alike.
In a strange turn of events, "the al-Aqsa Martyrs Brigades, the military arm of the Fatah faction led by Mahmoud Abbas, the Palestinian president, claimed responsibility for Wednesday night's rocket attack from Gaza – the first since Palestinian factions declared their own ceasefire with Israel."
At least nine people, seven of them school girls, have been injured by an Israeli air attack in the southern Gaza Strip, sources tell Al Jazeera.

The raid on Thursday in Khan Younis also injured a Hamas policeman, the AFP news agency reported quoting witnesses and medics.

The raid came several hours after Israeli jets attacked what witnesses said was a metal foundry in Gaza's Rafah, a town near the Egyptian border.

"An aerial attack took place against a site used to manufacture weapons in an area of the city of Rafah following the firing of a rocket into southern Israel in [Wednesday] evening," an Israeli army spokesman told AFP.

The military later said that a second missile was fired into southern Israel from Gaza early on Thursday, but that no damage or injuries were caused.

Hoda Abdel-Hamid, Al Jazeera's correspondent in Gaza City, said: "These kinds of attacks cause a lot of tension amongst the people, and there is apprehension that these tit-for-tat attacks could escalate and a full on war could resume."

Ehud Olmert, the Israeli prime minister, has called for a security cabinet meeting to discuss expanding the military response to Gaza rocket fire, sources tell Al Jazeera.

The violence came as George Mitchell, the US envoy to the Middle East, prepared to head for talks with Mahmoud Abbas, the Palestinian president, as part of a wider regional tour.
Will this disqualify Abbas from participating in peace talks with Mitchell or will Israel hold Hamas responsible for Fatah's actions as well, as despite the devastating loss of infrastructure in Gaza due to Israel's ruthless bombing, Israel is still holding Hamas responsible for all actions against the illegal Occupier?
McClatchy News has picked up on the bizarre targeting of the American School in Gaza – a target in the past for Palestinian anger at US support for the oppressor Israel, and more recently bombed as part of Israel's collective punishment of the Gazan people.
As school officials search for a temporary campus for their 230 students, the loss has stunned many Gazans. If any place should have been safe from Israel's war on Hamas, they say, it was the school, which for years flew an American flag over the main gate and whose graduates attend top universities in the United States, Canada and the Middle East.

Yet of the 25 schools and hospitals that Israeli forces hit during the 22-day war, according to a tally by Palestinian officials, only the American International School was destroyed. Days after the airstrike, Israeli bulldozers and tanks returned to the campus and plowed over the basketball court and the jungle gym, school officials and residents said.

Human rights experts are investigating whether Israel's attacks on Gaza schools — which as civilian property are protected by international humanitarian law — constitute war crimes.

"It's an iconic example of the disconnect between Israeli statements and the facts on the ground," John Ging, the head of the U.N. refugee agency in Gaza, said of the school strike. "Israel said it was striking against the institutions of terrorism, but this is a school that was teaching an American curriculum in English. There has to be an answer for this and all the other destruction and death."

The school was closed for the Christmas break when Israel launched its air assault on Gaza on Dec. 27. After several days of strikes nearby, the night watchman asked whether he could bring his family to stay with him at the school, thinking that it would be safe from attack. Salem refused, citing school rules.

The next morning, at about 3 a.m., two Israeli warplanes bombarded the building, collapsing it "like a biscuit," said Ramadan Sabah, a 23-year-old who lives in a shack 200 yards from the school.

"They had no reason to hit the school," Sabah said. He and three other residents said militants hadn't fired rockets from anywhere in the area.

The watchman was killed, and Salem's decision probably saved the lives of the man's family. The British-trained educator doesn't feel much relief, however.

"It's really very sad to see Israel target a place that Gaza needs to reach a common understanding between cultures and promotes openness and diversity," Salem said. "We should have a hundred schools like ours in Gaza, not one."
Israel's sadism knows no sane boundaries.
This is further confirmed by McClatchy, who are running a story that Israeli troops killed Gaza children carrying white flag.
When they opened the door, they saw an Israeli tank parked in their garden about 10 yards away.

"We were waiting for them to give us an order," Khaled said last week as he stood in the ruins of his home. "Then one came out of the tank and started to shoot."

Souad Abed Rabbo said she was shot as she pushed her son back inside and her granddaughters fell on the stairs. When the shooting was over, she said, 2-year-old Amal and 7-year-old Souad were dead.

The allegation is one of at least five such white flag incidents that human rights investigators are looking into across the Gaza Strip. It's part of a growing pattern of alleged abuses that have raised concerns that some Israeli soldiers may have committed war crimes during their 22-day military campaign in Gaza.

"The evidence we've gathered in two of the cases so far is exceedingly strong," said Fred Abrahams, a senior researcher with Human Rights Watch working in the Gaza Strip. "All the research so far suggests they shot civilians that were leaving their homes with white flags."

Along with the white flag incidents, Human Rights Watch is calling for an international investigation into widespread charges that Israel prevented medical teams from helping wounded Palestinians trapped in their homes and needlessly demolished hundreds of houses, including dozens in Ezbt Abed Rabbo.

"This was not a rogue unit," said Abrahams. "The needless civilian deaths resulted from concrete decisions made by the military."
Mitchell is projecting a firm stance against Olmert's rigid demands.
Arms smuggling into Gaza must end along with Israel's blockade of the territory if ceasefires between the pair are to hold, George Mitchell, the US envoy to the Middle East, has said.

Mitchell's comments on Wednesday followed talks in Israel and Egypt during his tour of the region aimed at promoting what he said would be a bid for "lasting peace" between Israel and the Palestinians.

Speaking after meeting Shimon Peres, the Israeli president, and Ehud Olmert, the prime minister, Mitchell told reporters in Jerusalem there needed to be "a cessation of hostilities, an end to smuggling and re-opening of the crossings based on 2005 agreements" in order to consolidate the ceasefires.
Olmert requires the release of Shalit for borders to open – Hamas is holding to its position of linking border openings to a truce, and Shalit's release to release of 11000 Palestinian prisoners.
Abbas appears to be making a consolidated effort, yet states the bloomin' obvious:
Mitchell is also due to head to Ramallah in the occupied West Bank on Thursday to meet with Mahmoud Abbas, the Palestinian president, who has criticised Israel ahead of the talks.

"Today, we are convinced more than ever, especially after the aggression against Gaza, that Israel does not want peace and we are going to say so to all those who come to see us," he said.

…

Ahmed Abul Gheit, the Egyptian foreign minister, said the talks have "evolved positively" and a "permanent" truce could be agreed in the first week of February.

He said such a ceasefire would lead to the reopening of crossing points into Gaza, where most of the 1.5 million population depend on outside aid, but which has been closed to all but basic humanitarian goods by Israel since Hamas seized power.

Hamas wants the border crossings into Gaza reopened, including the Rafah checkpoint bordering Egypt, to end the Israeli blockade in the territory.

Israel wants to stop the rocket fire and prevent Hamas fighters from using smuggling tunnels under the border with Egypt to rearm themselves with weapons.

"The Israelis' position is extremely tough," Phillips said.

"They are determined to show that the policy of deterrence – which they believed justified the recent attacks on Gaza – worked … It makes it a very difficult situation for Mr. Mitchell."
Unfortunately, unless the US puts its foot down and begins withdrawing aid, it will be very easy for Israel to snub any counter offers made, create yet another pretext to resume bombing and continue with its inhuman, illegal blockade and occupation in its relentless pursuit of Palestinian expulsion and expropriation of Palestinian land.
Racist Israeli graffiti – anti-semitic because it is directed at the semitic Palestinian people.
Israeli IDF dolts fired warning shots at the French Consul General and his troupe as they were leaving Gaza – not amused, the Israeli Ambassador has been summoned.
"At the end of this visit, the convoy, which had planned to go back to Jerusalem (Al-Quds) in the evening, was blocked by the Israeli authorities for more than six hours at the Erez border crossing," Chevallier told reporters.

"The convoy, which also included other European diplomats, had two warning shots fired at it from Israeli soldiers" he added.