With George Mitchell's arrival imminent, Abbas is speaking staunchly.
"We want a state in the 1967 borders, a fair solution to the refugee issue, removal of settlements. There will be no going beyond these points or bargaining," said Abbas, on the defensive in the Arab world before Hamas' rhetoric of "resistance".

The Palestinian Authority wants to establish a state in the West Bank and East Jerusalem, land captured by Israel in the 1967 Six-Day War, and the Hamas-controlled Gaza Strip, territory that Israel evacuated in 2005.

U.S. peace envoy George Mitchell arrived in Egypt on Tuesday and is due to meet Abbas in Ramallah on Thursday, after new U.S. President Barack Obama appointed him last week. Abbas said Palestinians are looking to Obama for progress:

"He [Obama] has said good things. We are waiting to see if there is seriousness during this year about the peace process."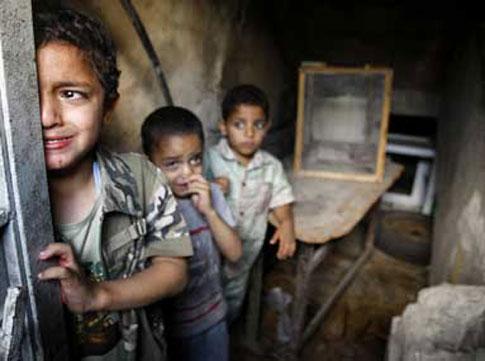 Abbas' term expired on the 9th January, however the PLA have insisted that his term is extended to January next year to coincide with national elections.
A petition is being passed round the West Bank and Gaza in an urgent push to create unity.
"The aggression on our people in Gaza is an assault on all the Palestinian people, it aims to break the will of all our people, driving it to live in division and capitulating to the liquidation of our national cause," the petition said.

"Political and geographical division is destructive to the Palestinian cause," one of the signatories, Abdel-Rahim Mallouh, a member of the radical Popular Front for the Liberation of Palestine (PFLP), told reporters in Ramallah.
Meanwhile the Muslim Ummah awaits the actions of the UN – will the Israeli war criminals be brought to justice?
The blood soaked Olmert is eager to help his vampirish successor Livni attract more votes from the bloodthirsty Israeli public with an extension of the repulsive and gory Israeli orgy:
Speaking late on Tuesday, Mr Olmert said the airstrikes on Rafah were only an initial response to the attack on the patrol and that Israel's full response was still to come, Israeli websites reported.
UPDATE 29 JAN
Palestinian president Mahmud Abbas said Wednesday that the construction of Israeli settlements in the West Bank showed that Israel did not want peace.

"The pursuit of colonisation and expansion of settlements inside Palestinian territories shows that Israel has no desire for peace," Abbas said at a joint news conference in Ramallah with EU foreign policy chief Javier Solana.

According to a report published Wednesday by the pressure group Peace Now, the number of buildings built in Israeli settlements in the West Bank increased by 60 percent in 2008.
Contrast Abbas's statements with Netanyahu's current stance:
Likud chairman Binyamin Netanyahu and three quarters of the Likud's candidates declined to sign a loyalty oath ruling out a Palestinian state that was distributed to all the parties on the Right.

The oath, distributed by the Matot Arim organization, included a vow not to lend a hand to the formation of a Palestinian state.

…

Netanyahu addressed the matter in a meeting with religious-Zionist Likud supporters in Jerusalem on Monday. At the meeting, he ruled out future unilateral withdrawals. He warned about the creation of a Palestinian state but declined to rule it out.

"Any Palestinian state that would be formed under the current conditions would become an Iranian state as we saw happen in Gaza," Netanyahu said. "[But] we all must work to advance peace while considering reality."

Netanyahu's associates said he did not want to govern a single Palestinian, but under certain circumstances, he would agree to a state with limited sovereignty and powers.

Regarding building in West Bank settlements, they said his views were no different than they were when he was prime minister, when he declined to build new settlements but allowed natural growth in those already existing.

"I have no intention of building new settlements in the West Bank," Netanyahu said in a meeting with the Quartet's Middle East envoy Tony Blair on Sunday. "But like all the governments there have been until now, I will have to meet the needs of natural growth in the population. I will not be able to choke the settlements," he said.