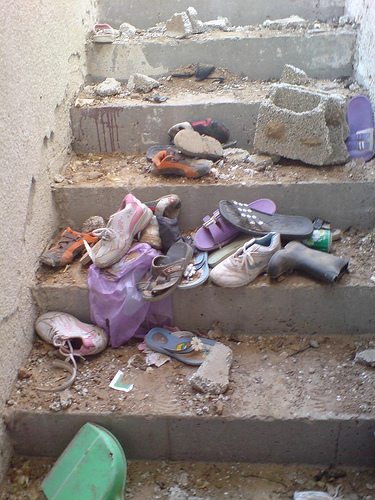 Rafah Exodus
7th January 2009
Shortly before midnight last night missiles began raining down on Rafah in one of the heaviest Israeli air strikes since the current atrocities began. Continuous sorties pounded the southern Gaza city for over 12 hours. Many homes were destroyed or severely damaged, especially in the neighbourhoods along the border with Egypt.
Residents reported mass leaflet drops in these neighbourhoods by Israeli 'planes this afternoon. The papers ordered them to leave their homes in the areas stretching from the borderline all the way back to Sea Street, the main street running through the heart of Rafah, parallel to the border. This area is hundreds of metres deep and the site of thousands of homes. Most of these areas are refugee camps, where residents are being made refugees yet again, some for the third or fourth time following the mass home demolitions of 2003 and 2004 by Israeli military D-9 bulldozers.
A three hour respite was announced in the local media and residents saw this as the last possible opportunity to salvage some of their belongings despite F-16 fighter jets remaining in the skies over Rafah during this time. There were scenes of people picking through the rubble, children carrying bundles, donkey carts piled with bedding and trucks loaded with furniture.
Where will these families go? They are afraid to seek sanctuary in local UNRWA schools following yesterday's massacres in Jabaliya. They are being temporarily absorbed by the rest of Rafah's population – friends, neighbours, relatives. We have a friend in Yibna, directly on the border, who refuses to leave his home. We spoke to one woman in Al Barazil who has a family of 12 and simply doesn't know where to go and another woman in Block J who is literally in the street tonight. Her father is in his nineties. – Photo & text courtesy of Rafahkid
The UN Office for the Coordination Affairs – Occupied Palestinian Territory has released its weekly report detailing the effect of Israel's illegal aggression against the civilian population in Gaza. Some excerpts follow:
Since the Israeli military operation "Cast lead" began on 27 December until 8 January (4:00PM), 758 Palestinians have been killed – approximately 42% of whom were women (60) and children (257) according to the Palestinian Ministry of Health. The number of children fatalities has increased by 250% since the beginning of ground operation on 3 January. 56% of Gaza's population are children.
There is no safe space in the Gaza Strip – no safe haven, no bomb shelters, and the borders are closed and civilians have no place to flee. UNRWA facilities being used as shelters are not constructed to withstand bombardments as they are mostly schools and office buildings.
View an ISM video of the razing of Rafah. – more than 180 homes were bombed to smithereens in the Zionist pogrom against the people of Gaza. One man says it was a repeat of the events in 2004 when Zionists bombed the same area without warning, while people were sleeping.
From 3 to 7 January, the IDF prevented medical teams from entering the area to evacuate the wounded. In of the one gravest incidents since the beginning of operations, according to several testimonies, on 4 January Israeli foot-soldiers evacuated approximately 110 Palestinians into a single-residence house in Zeitun (half of whom were children), warning them to stay indoors. Twenty-four hours later, Israeli forces shelled the home repeatedly, killing approximately thirty. Those who survived and were able, walked two kilometres to Salah Ed Din road before being transported to the hospital in civilian vehicles. Three children, the youngest of whom was five months old, died upon arrival at the hospital.
The severity of the electricity situation was underscored when on 5 January, generators at MoH ambulance stations, vaccines stores, labs and warehouses shut down for lack of fuel until UNRWA delivered fuel to the MoH. At Shifa hospital, generator failure could prove to be catastrophic as 70 intensive care patients, including 30 in the neonatal department, are reliant on machines.
Although 232 truckloads of flour have entered Gaza since 30 December, no wheat grain has been allowed into Gaza since the beginning of the hostilities. The Ministry of National Economy in Gaza ordered flour mills to allocate the available wheat flour to bakeries and distribute it under its supervision. As of 6 January, only nine bakeries in Gaza were operational, due to the paucity of flour and cooking gas, and bread prices have nearly doubled since the Israeli offensive began.
Via Raising Yousuf and Noor: diary of a Palestinian mother – From Dick Gordon on NPR's NC station, WUNC: Hear what life is like for ordinary people in Gaza right now and how parents are keeping their children entertained despite the Israeli onslaught.