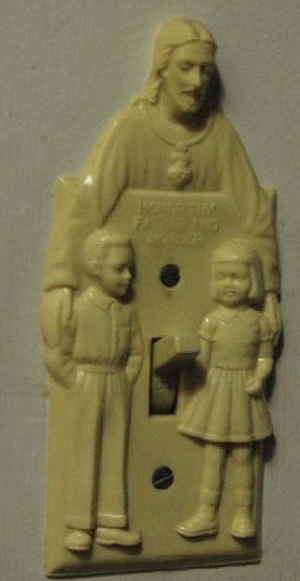 Scavenged from Pharangula, this delightfully symbolic piece from the planet's premier throwback fertility cult stimulated gales of laughter in the Fringe residence. We do try always to look on the brighter side of life 🙂
Some of the hysterical captions proposed thus far:
"Jesus is the way, the wang, and the light."
"Thy rod and Thy staff they comfort me."
"Flip my switch and be enlightened."
"Jesus loves the little children…."
"Suffer the little children to come unto me."
"Children turn me on."
"Jesus was hung so that we may see the light."
For more delectable examples of primitive Catholic folk art and wonderful satire knifing credulous Catho devotees visit the seminal Madonna of the Toast site. The most recent post, examining the divine significance of peculiarly shaped pretzels is funny! There's easy eBay bucks to be found in your local supermarket.