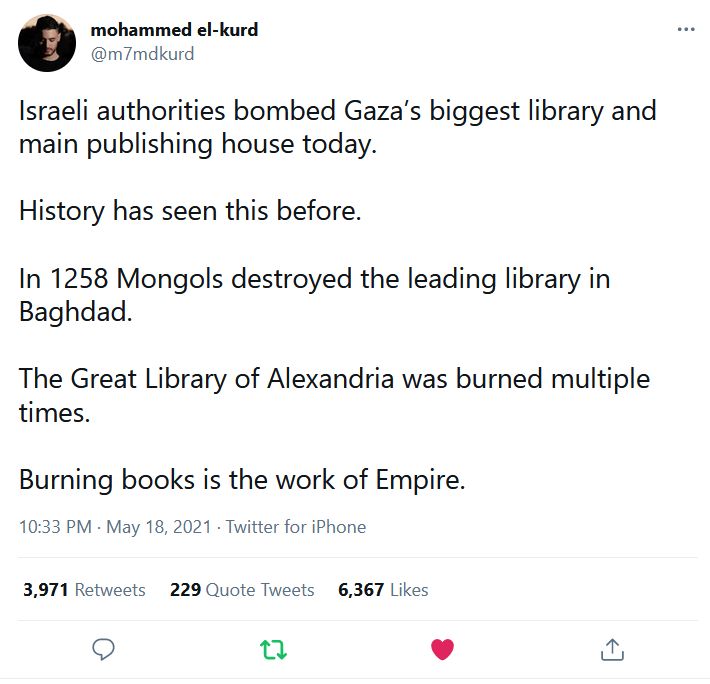 Strike For Palestine
at the magic point of writing my own stories
again joy's stolen by Israel and its settler cronies,
how many times have the bombs of the colonizer
fallen on its sitting duck prisoners in Gaza?
now more sleepless nights tweeting, posting
attacking the flatulent zionist boasting
to stop genocidal killing in desperation
for my mates oppressed by the West's occupation,
and what am i, what's the bloody use,
another fucking white saviour out in the bush,
through a torrent of tears never heard,
all i can fight with are coarse distant words,
may they be sharp and hard, accurate missiles
to pierce the iron colonial carapace
for as in Israel and US, here they are present
condemning refugees to eternal imprisonment
scumbag white supremacists strut and preen
with gruesome European colonial hubris.
Jinjirrie, May 2021
1 of the libraries that Israeli warplanes destroyed yesterday was my safe haven, my happy place, the 1st library to ever get English books into #Gaza. Going there would excite me & make me feel less lonely, met likeminded people there, made book club friends. #GazaUnderAttack

— Omar Ghraieb?? (@Omar_Gaza) May 19, 2021
Manifest Hasbara
Liberal hasbaroids are snide
prancing the dance of 'both sides'
not 'clashes', resistance to apartheid
this 'conflict' is 73 years of genocide
Jinjirrie, May 2021
Related Links
"The Migration Amendment (Clarifying International Obligations for Removal) Bill 2021 was introduced on the last sitting day of the last session in March.
On Thursday, in the hours before the budget reply speech, the government cut short debate on the floor of the Senate and brought the bill to a vote. There were critics on the floor of the parliament, notably Greens senator Nick McKim and independent MP Andrew Wilkie. But with bipartisan support, there was little room for dissenting voices. With Labor's support, the bill passed quietly into law."
Take action to end apartheid criminal Israel's impunity – Strike for Palestine. "Silence and two-sides-ism are immoral, as they reinforce Israel's criminal impunity."